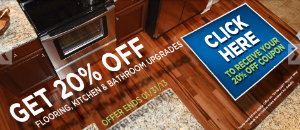 As you are taking down the holiday decorations and trying to reorganize your home this January, you may be among the many that come to realize that your current home is either outdated, doesn't have enough space or, possibly, has too much space! Whatever the reason may be for wanting a new home, January is the perfect time to launch your search, especially since we have brought back one of our most popular bonuses!
For the month of January only, anyone who purchases a to-be- built S&A Home by 1/31/13 can receive 20% off any kitchen upgrades through Century Cabinets, L&L Flooring and Kohler. To make our deal a little sweeter, we are offering this bonus ON TOP of any other advertised community incentive, making January one of the best times of year to purchase a new Pennsylvania home.
Here are the details:
1.    Offer applies to to-be-built homes only – no quick delivery homes.
2.    Buyers must receive their 20% off coupon from our online sales specialist to be eligible for the promotion. Click here for more details.
3.    Offer applies to flooring, faucet and cabinetry upgrades through specific vendors. Structural upgrades are not included as part of the offer.
4.    Purchaser must buy on or before 1/31/13 to qualify.
Don't miss out on this special savings opportunity! For more details, visit www.sahomebuilder.com.