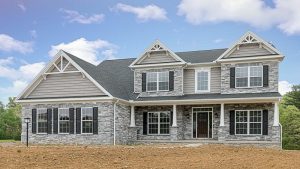 Purchasing a home is an exciting journey, but it's important to have a financial plan in place before you start house hunting. If you're looking to buy a new construction home in Central Pennsylvania, there are certain costs to consider that can affect your budget. Here's an overview of the associated costs of buying a new home in Central Pennsylvania.
Home Prices in Central Pennsylvania
The median price for a home in Pennsylvania is $263,500 according to Redfin (as of November 2022). This amount will vary depending on where you live and what type of property you're looking for. For example, if you're looking for a luxury single-family detached home with all the bells and whistles then expect to pay more than the average price. On the other hand, if you want something smaller like a condo or townhouse then it may be possible to get into these types of properties for less.
Regardless of what type of property you choose, it's essential to understand the costs associated with homeownership – which goes beyond just the purchase price of the property, in order to determine how much you need.

1. Down Payment
This refers to a portion of the total cost of the home that is paid upfront when making an offer on it. The minimum down payment amount required by lenders varies depending on the type of loan program and additional criteria such as credit score. Most people will need to have at least 3.5-10% saved up for a down payment on their new home. For a median priced home, this would be between $9,222 and $26,350.
Additionally, you should also factor in other expenses such as closing costs (more on that in a moment), property tax payments, homeowner's insurance, furnishings, and any unexpected repairs that may arise after purchasing the property.
2. Closing Costs
In addition to the down payment, there are also closing costs associated with purchasing a home that typically ranges between 2 – 5% of the purchase price. These include fees for title insurance, inspections, appraisals, attorneys, and more that help cover administrative fees before closing on the house. Again, for a median price home, the estimated range would be $5,270- $13,175.
3. Remodeling and Repairs
Unless you've purchased a new construction home, you may want to do some remodeling or repairs to make it yours. Depending on what type of projects you have planned out (e.g., kitchen renovations or bathroom updates) budgeting anywhere from $5,000 – $100,000+ could be necessary here as well. You don't need to complete all of the projects at the same time. You can spread them out over time.
While the choice between new construction and resale comes down to personal preference, here are some benefits of purchasing a new construction home.
4. Moving Costs
If you're relocating cities or states to purchase your new Central Pennsylvania property don't forget to budget for moving expenses. Factors such as when you move, distance traveled, and the number of trucks or pods needed will impact how much this will ultimately cost so be sure to factor these into your budget too.
The journey towards buying a new construction home in Pennsylvania comes with many financial considerations and responsibilities. Researching market conditions ahead of time will prove invaluable when calculating just how much money one needs upfront for both down payments and closing costs while also keeping track of ongoing expenses during homeownership such as taxes and insurance premiums will ensure there aren't any surprises along the way.
Finding Your Dream Home in Central Pennsylvania
S&A Homes is proud to build affordable new home communities throughout Central and South-Central Pennsylvania. We can also build on buyer-owned land through our Build on Your Own Land program. To learn more about our available inventory and communities, call S&A Homes at 855-921-3626 or contact us now. We're happy to help!