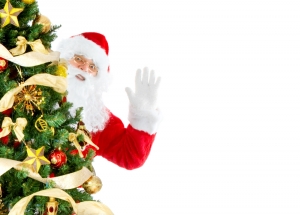 Ho Ho Ho – it's Christmas!  Well, almost at least, and what better way to get the kids in the mood than a visit to Santa?   Ok….we know what you are thinking – sitting in Disney World style lines for Santa at the mall and fighting for parking spots is not really the best way to get Mom and Dad in the holiday spirit.  Plus, who wants to pay $40 for a grainy photograph of your child and Santa Claus?
That's exactly why S&A is bringing Santa to you!  This weekend, Santa himself will be making a special visit (his 4th annual, actually) to our Worthington Village Model Home in Bridgeport, West Virginia!  On December 10th, from 5pm – 8pm and December 11th from 1pm – 4pm, Santa Claus will be available to children of all ages!
Think of it – more one-on-one time for the little ones to spend with Santa (after all, kiddos want to make sure Santa knows what they want), FREE photos with the big guy and best of all…no lines or overcrowded shopping centers to deal with!
Plus, since S&A is in the giving spirit this holiday season, canned food donations will be accepted at the event for the Clarksburg Salvation Army.  So, pack up the family and head on over to Worthington Village and do something good for yourself, your family and for the community!
Please RSVP to Mike Mann or Jessica Martinson at 304-808-5100.
Location: Worthington Village Model, 1079 Worthington Drive, Bridgeport, WV  26330
Times: Saturday, December 10th 5pm – 8pm AND Sunday, December 11th 1pm – 4pm