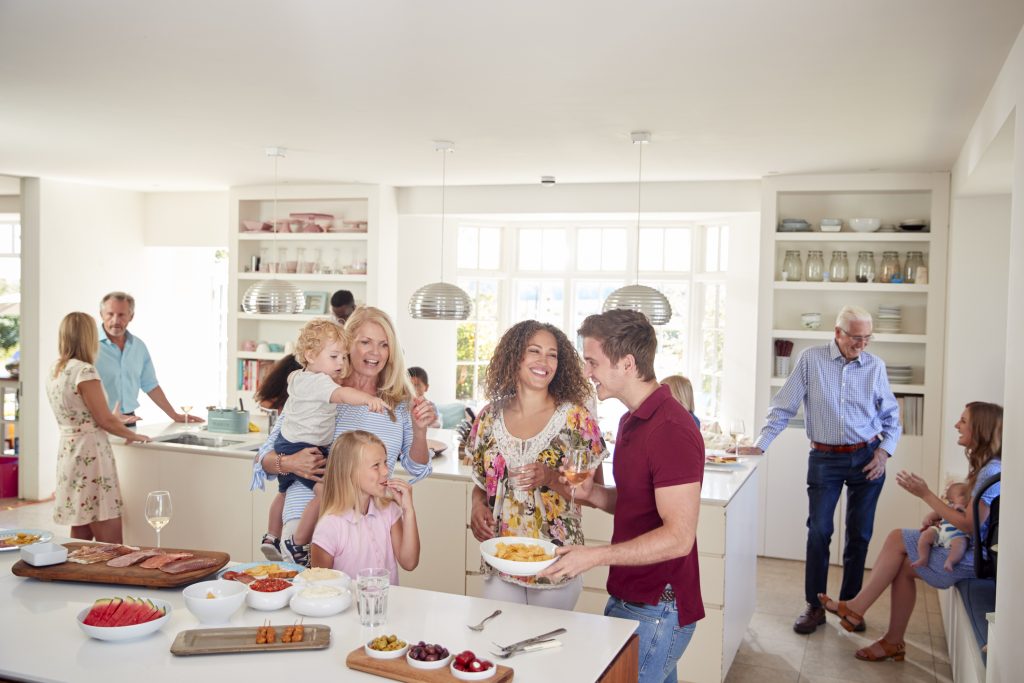 For many homeowners, entertaining guests is a regular part of their social life. From family and friends to colleagues and neighbors, there's always someone to host and entertain. If you're buying a home and plan on entertaining regularly, there are certain features you should consider. Not only can they make your home more functional, but they can also enhance the overall entertaining experience for you and your guests. Here are some must-have home features for entertaining that you should keep in mind when house hunting.
Welcoming entry or foyer
Avoid a front door traffic jam by providing a spacious entryway for your arriving guests. Give them room to comfortably remove their coats, exchange greetings, and make themselves at home. To make things even better, find an entryway with enough space to move around and well-lit for a warm and inviting atmosphere. And don't forget about the exterior! Look for a canopy or covering to shelter your visitors from any unexpected rain or snow.
Coat closet
Having a coat closet near the main entrance is a lifesaver for stowing away your guests' coats and bags. Not only does it keep these items out of sight, but it also adds a touch of organization to your space. If the entryway is on the larger side, consider stylish wall hooks or a trendy coat tree.
Open floor plan
An open floor plan is an essential feature of any home meant for entertaining. This type of layout allows guests to easily flow from one room to another without feeling cramped or confined. An open floor plan also creates a more social and inviting atmosphere, making your guests feel welcome and relaxed. Look for a home with a spacious living and dining area that can accommodate your guests comfortably. An open-plan living room will allow your guests to sit, relax, and chat while you're preparing meals or drinks.
Outdoor living spaces
If you plan on entertaining during the warmer months, outdoor space is a must-have feature. Bonus points: an outdoor entertainment area can also increase the value of your home. Look for a home that has an outdoor entertainment space that can easily accommodate your guests. It can be a patio, deck, or backyard where guests can mingle and enjoy the outdoors. Make sure the space is easily accessible from the indoor entertaining area to encourage guests to spend time outside.
Guest rooms
If you're going to entertain regularly, having a guest room can be a great addition. This will allow your guests to stay over without having to travel home late at night. Look for a home that has a guest room or additional space that can be used as a guest room. Having a comfortable place for your guests to sleep will make them feel more welcome and encourage them to come back.
Storage space
Hosting a party requires a lot of equipment, from serving platters and utensils to extra seating and decor. Having ample storage space is essential to keep your home organized and clutter-free. When viewing potential homes, make sure there are enough cabinets, closets, and storage areas to accommodate all of your entertaining needs.
First-floor bathroom
Depending on the size of your home, a bathroom or powder room on the first-floor is another essential feature. A main floor bathroom makes it easy for guests to find and use and keeps them from wandering around upstairs. Keep the bathroom stocked with essentials like toilet paper, paper towels, and a soap dispenser for their convenience.
Smart home automation
Home automation allows you to control the environment of your home, including lighting, heating, entertainment, and security, from your smartphone or tablet. This feature can make it easier to prepare for guests, adjust the lighting to create the right ambiance and control the entertainment. It can be a valuable asset when entertaining, allowing you to focus on your guests and not the logistics of running your home.
Buying a home with entertaining in mind requires careful consideration of several key features. Whether you're hosting a small gathering or a big celebration, these must-have features above can make all the difference.
New construction homes by S&A Homes
Are you looking for a larger home so you can host the next family get together? S&A Homes offers a diverse selection of home designs with many of the must-have entertaining features like open floorplans. Learn more about new home opportunities throughout Central and South-Central Pennsylvania, including quick move-in homes and build on your land opportunities, by calling 1-855-SAHOME1 or visiting us online at SAHomeBuilder.com.