As a new parent, designing a nursery can be an intimidating task. There are many things to consider and decisions to make like color schemes, furniture selection, and safety concerns. To help make the process easier, we've outlined some tips and tricks that you can use to create a nursery that is both inviting and practical for everyday use.
Plan the layout and furniture
The first step in designing any room is determining the size of the space you have to work with. Measure the square footage of the room and decide on the type of layout you would like to have in the nursery. The nursery should be sectioned into zones for sleeping, nursing, changing, and playing so you can easily take care of the baby. Find the best placement for the essential furniture like the crib, changing table, and rocking chair you'll use for nursing based on the available space. Here are some layout options if you need some ideas.
When it comes to planning what furniture to include in the nursery, size matters. Make sure whatever furniture you choose will fit in the room comfortably with enough room left over for your little one to explore. Don't feel pressured to buy new or baby-specific furniture. You can get creative and use furniture your child can grow into so it doesn't need to be replaced as they grow.
Choose colors, fabrics, and accessories
Now it's time for the fun part: choosing colors, fabrics, and accessories! Try not to overload with too much color or too many patterns – this can make the space feel overwhelming. Go for a simple but stylish look to create an inviting atmosphere while still being practical. Bed linens are also important when creating a safe sleeping environment for your baby. Look for organic materials that are soft and cozy yet breathable such as cotton muslin or jersey knit sheets.
Adding wall decorations helps bring life into the nursery while still keeping a calm atmosphere. Think about hanging artwork such as prints or framed photographs of family members that can become part of special memories later on in life with your little one.
Lighting options
The nursery's primary purpose is for sleeping. It'll be important to control the light and noise in the space. Blackout shades will reduce light and make it easier for your little one to sleep during the day and thick pile rugs and drapes can dampen the noise from around the house.
In addition, you'll need adequate lighting in the room. Layer overhead lights with task lighting to provide bright illumination during diaper changes but also a cozy ambiance during nighttime feedings or lullabies.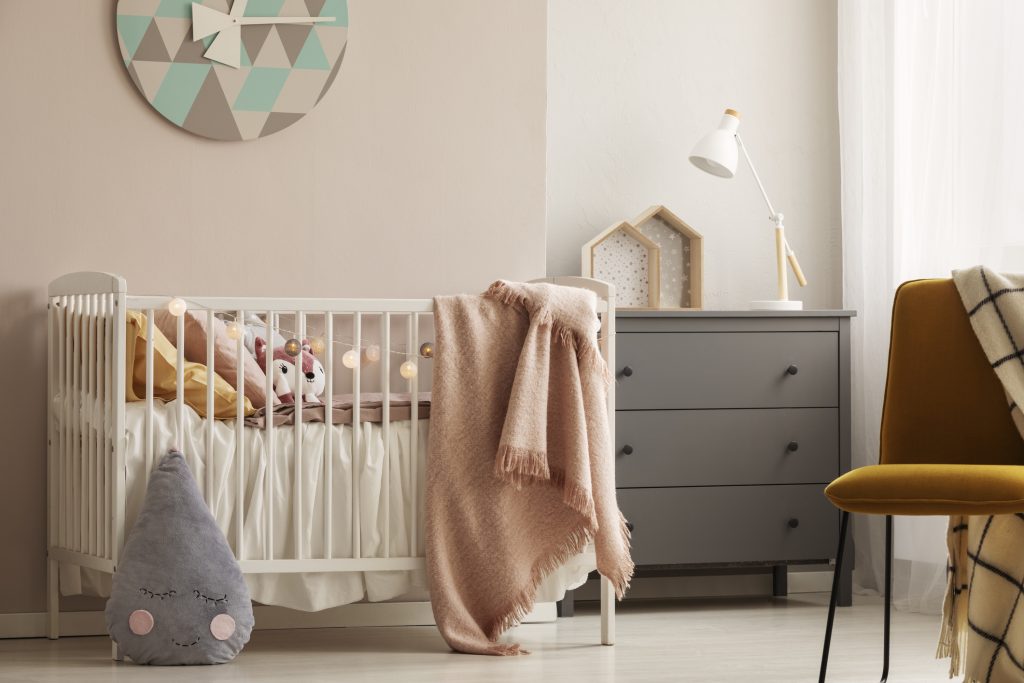 Storage solutions
Storage solutions are essential for any nursery design plan because they provide easy access to all of the baby's essentials without taking up too much space. Look for storage options that are both functional and aesthetically pleasing; shelves with decorative baskets or drawers with colorful knobs can add character while still providing ample storage space for toys or clothing items.
Safety considerations
When designing your nursery, it is important to consider potential hazards such as electrical outlets or sharp edges on furniture pieces. Make sure that all electrical outlets are covered and all furniture pieces are securely attached to walls or floors (if necessary). Keep any small items away from curious little hands by using secure storage solutions or hiding them in cabinets or drawers with childproof locks.
Designing a nursery doesn't have to be stressful; by following our tips and tricks outlined above you should have no trouble creating a warm, inviting atmosphere with plenty of practical storage solutions thrown into the mix too.
Whether you're looking for more space to grow your family or need extra room for a new arrival, we hope you'll consider us. S&A Homes offers a variety of new home communities and floorplans in the most sought-after locations in Pennsylvania. We can also build your dream home on your own land! For more details, visit us at SAHomebuilder.com.