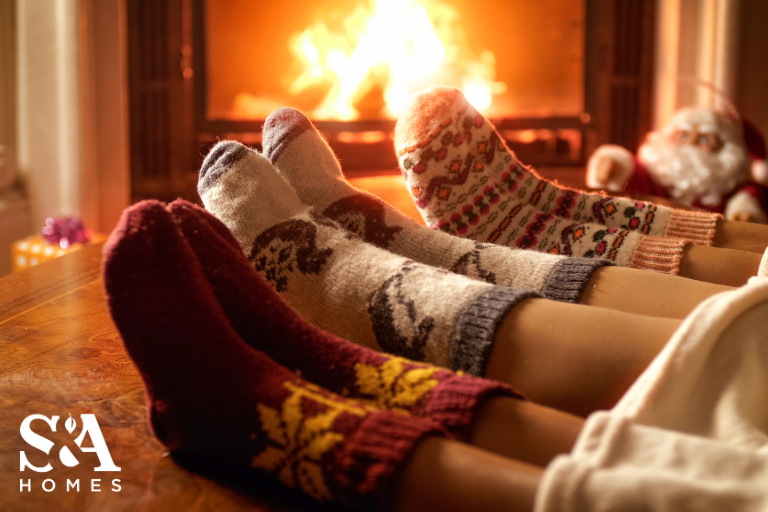 'Tis the season for festive family fun! While many holiday plans have changed this year, there are still plenty of ways to celebrate the season with loved ones in your very own home. If you're like the many others staying at home this holiday season, we have some great news for you.
Our S&A Homes team has compiled a few of our favorite stay-at-home activities that make being home for the holidays an enjoyable experience for everyone.
Have a holiday movie marathon
The holiday season isn't complete without watching a few festive films. Put on your comfiest holiday pajamas, pick out a couple of holiday movie favorites, pop some popcorn and gather for a seasonal cinematic experience. To build up the energy for your family's movie marathon, whip up and pour up some sweet peppermint hot cocoa for everyone to sip on during the night.
Get to puzzling
Puzzles aren't new by any means, but they have certainly become a popular pastime this year. If you're looking for an activity that will bring everyone together and pass the time, a puzzle is sure to do the trick. Once you're done, take it apart for future puzzling or Mod Podge the pieces together to preserve your puzzle for decorative use or even potential holiday gifts.
Go camping indoors
While it may be a bit chilly to throw up a tent and sleep outside, that shouldn't stop you from bringing the camping fun indoors. Push your living room furniture aside and set up a blanket fort or a tent in the middle of the room. Grab some sleeping bags, get cozy around the "fire" (candles or a lantern) and eat camping foods like hotdogs and s'mores.
Bake away in the kitchen
Warm-up your kitchen for some seasonal baking. Baking together as a family is a great way to spend time together while also teaching and learning life skills. Make your tried-and-true family favorites or branch out and try some new ones. For families with little ones, try opting for recipes like decorated sugar cookies and handmade pies that allow for more interactive baking, as well as creative control.
Reminisce family memories
Whether you're spending time with immediate or extended family, the holidays are a great excuse to bring out the family scrapbooks, photo albums and video tapes and reminisce over beloved memories from the years' past. Going through those old family memories is guaranteed to bring about laughs and stories that are sure to be passed down for many years to come.
What activities are you taking part in to celebrate being home for the holidays in your S&A home? Explore new home opportunities from S&A Homes throughout Central and South-Central Pennsylvania by calling 1-855-SAHOME1 or visiting www.SAHomeBuilder.com.