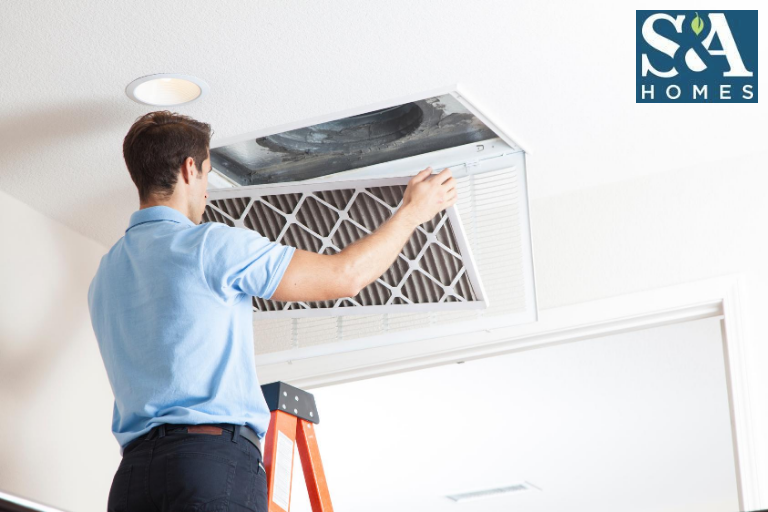 Cool off and save big! The summer months are notorious for increased air conditioning use and high energy bills, but they don't have to be. At S&A Homes, we are all about our homeowners getting the most out of their home when it comes to energy efficiency and home savings. This is why we exceed code requirements for energy ratings on all of our homes. This represents savings our buyers enjoy 365 days each year.
Of course, most homeowners can do a little bit of extra work to save more money on utility bills. Here are a few tips for cooling your home and lowering your utility bills through the summer without having to break a sweat.
Unplug devices and turn off lights
In the summer months, you're likely to spend more time outdoors than inside your home. Before heading out, make sure that lights are turned off and devices are unplugged if they are not in use. If this sounds like a hassle, a power strip can be used to shut the power for multiple devices at once.
Rotate fan counterclockwise
It's a common fact that warm air rises and during the summer, you'll want to keep it there. Rotating your ceiling fans counterclockwise will give your HVAC system and utility bill a needed break by keeping the warm air up and bringing cool air back down to maintain a more comfortable home temperature.
Check air filters and HVAC unit
Cleaning and changing air filters is a routine home maintenance task that helps save on utilities while protecting the home's HVAC system. Improperly functioning filters causes the HVAC system to work twice as hard and therefore increases energy consumption. Check each air filter to make sure they are clean and correct for your system. An HVAC professional can also assess your home's system and provide recommendations.
Skip the appliances
Certain appliances, such as ovens and washing machines, can increase your utility bill in more ways than you think. Not only do these appliances use electricity to function, but they also heat up the home causing the HVAC system to work overtime. During the summer, try making ready-to-eat meals more often and take advantage of the warm weather by hanging clothes out to dry the old-fashioned way.
Turn off AC when away
There's no point in cooling off the home if you aren't going to be there to enjoy it. Whether you are going on a week-long vacation, a weekend getaway or a simple day trip, turn your AC off (or at least up) when out of the house for an extended period of time. You are sure to notice a drastic change in your next utility bill.
Close blinds, doors and windows
Conserve the cold air inside your home by closing blinds, windows and doors to rooms that you are not spending much time in such as basements, storage rooms or spare bedrooms. Doing so will conserve the homes AC use by redirecting the cool air back into the living spaces that matter most.
Purchase an e-Home
If you're planning on moving this summer, save more with an e-home! At S&A Homes, our e-homes are built ahead of the curve using the industry's most effective technology and energy-efficient approach. The average S&A home is 35% more efficient than a standard code-built new home, translating to hundreds, even thousands, saved every year!
Proof of our home's efficiency can be found in its Home Energy Rating (HERS), provided by a third-party verification system for every home built. The average S&A Home scores a low 65 on the HERS scale meaning that the home is built to optimize efficiency and lower costly expenses year-round.
For more information about energy-efficient features in S&A homes and our e-home program, visit www.SAHomeBuilder.com today.