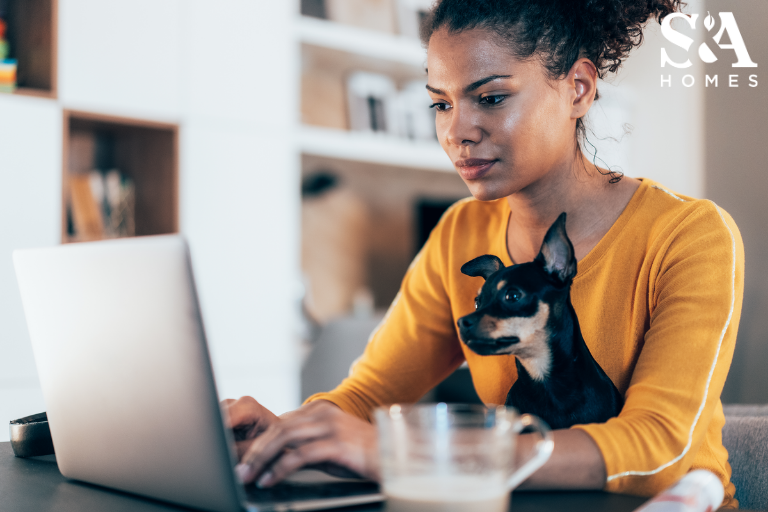 Millions of Americans are now working remotely from home. For many, this new reality has come with changes and adjustments as we try to work through our job responsibilities in a space that is not necessarily designed for it.
If you are struggling with finding your work-from-home groove, here are a few tips for creating a productive home office and setting yourself up for success:
Location, Location, Location
When setting up your workspace, location is essential. You are likely going to be spending many hours working there, so it is important to choose a location that is productive to you. While having a designated office space in your home's floor plan is ideal, it is not always the case and you may have to create a make-shift office of your own.
When deciding on your home office location, choose a space that is quiet, has minimal traffic-flow and is away from potential distractions. Some office space ideas include a dining room table, an empty closet, an upstairs loft or even a backyard porch or patio.
Eliminate Distractions
At some point during the day you will probably want to take a mental break. Maybe you will surf on your phone, read a book or watch TV for a few minutes. While it is important to have these things around you to reward yourself here and there, it is also important to have them turned off or tucked away while you are working to avoid getting distracted. The last thing you want is to be tempted and get behind on your work.
Set Up Proper Lighting
Believe it or not, proper lighting is a huge office perk. Not only does it add some cheerful brightness to a room, but it also helps to prevent significant eyestrain. If you can, set up your home office space in a sunny space near a window where there is plenty of natural light. If you are still tired after a day of work, try adding additional light sources or adjusting the source of the light to brighten things up.
Get Started Early
When working in the office, you would usually have your moving commute to help wake up and mentally prepare for the workday ahead. However, when working from home, sleeping-in is tempting and that transition between bed and office can be difficult. Instead, keep to your usual wake-up time and start your day early. This will allow you go ahead and knock things out on your to-do list and give you a bit of extra time to get other things done or take a break if needed.
Declutter the Space
All offices get cluttered, but there is no denying that home offices are more prone to the mess. When your job and where you live take place in one space, it can be hard to keep things separate and organized. It is hard to get into the work zone with clutter in the way, so be sure to clear things out, put things up and throw things away regularly to keep everything neat and tidy for a productive day.
No matter the space you have, it is important to make sure it a positive and productive space that you feel good working in. At S&A Homes, we offer a variety of floor plan options with dedicated office space, or with bonus and flex room spaces – perfect to transform into a home office space. To learn more about new home opportunities throughout Central and South-Central Pennsylvania from S&A Homes, call 1-855-SAHOMES1 or visit www.SAHomeBuilder.com.