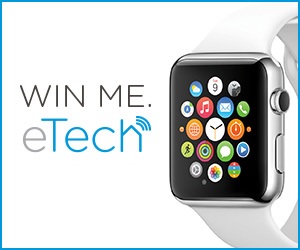 We're so excited to announce our #eTechAppleWatchGiveaway winners! Out of over 100 people that watched our new eTech™ video and entered, three were randomly selected to win new Apple watches. Congrats to Robert Hedrick, Karen Campbell and Starks Michael!
If you weren't selected to sport a new Apple watch, don't fret. These watches aren't the only things that can make your life simpler. So can our new eTech™ automated smart homes!* Our packages include**:
1. Home Automation Z-Wave Controller Hub provided
2. App for all of your smart devices to remotely control Z-Wave enabled technology
3. Free Installation, Set Up and One Year of home automation for peace of mind
4. Energy Management HVAC Thermostat
5. One Yale Security Electronic Touchscreen Deadbolt at Front Door
6. One Z-Wave Enabled Receptacle at the location of your choice
7. Four Z-Wave Enabled Light Switches
8. One Z-Wave Enabled Dimmer Control at interior
9. Two Embedded USB Receptacles at location of your choice
Available in all of our to-be-built homes, imagine living out efficiency to the max. Whether you need to unlock the front door for the housekeeper, turn the heat up after a trip out of town or even feed the dog while you're at work, it's all possible with S&A Homes' eTech™.
Just like the Apple Watch, the possibilities are endless and are available with the touch of a few buttons.
The home of the future is here…today! So, if you haven't already, be sure to watch our eTech™ video to learn more or talk with any of our knowledgeable sales consultants. Again, congrats to our giveaway winners! Let us know how you all like the Apple Watches!
*Included items listed may differ from product offering by region. Certain differences and exclusions may apply – see sales consultant for details on eTech™ program. eTech™ offerings included in home sales dated 3.1.15 or later.
****Effective 1/1/16 eTech is now available as an optional add-on feature in select regions – prices and availability vary by community and are subject to change without notice. eTech to be paid for by customer unless otherwise stated. See sales consultant for details.