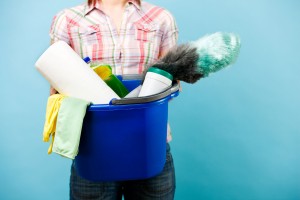 Whether your home is brand new or 50 years old, the advent of spring is the perfect time to think about sprucing up your home and getting your spring cleaning game on! S&A Homes did some scouring of our own online to help come up with the best of the best, and we discovered that some spring cleaning checklists are 100+ items long. All we can say to that is good luck checking all of those off!
We know you're busy, so we've boiled it down to just eight helpful tips to save you time and energy:
1.   Start at the top, and work your way down! Ever clean your floors just to discover they're full of dust once you vacuum upstairs? Starting on the second floor ensures you don't end up doing the same job twice.
2.   Invest in a plastic tote that can carry all of your cleaning supplies, paper towels, rags and sponges.  The only downside is you won't burn nearly as many calories running up and down the stairs for something you forgot!
3.   Start with a large trash bag. Eliminating the junk room by room will be an instant mood enhancer!
4.   Reserve a laundry basket for the extra "stuff". The biggest barrier to moving along can sometimes be the clutter that collects. The time and energy spent on deciding where it goes or starting a new organization project can derail a cleaning project that should have only taken a few hours. Save it for later, and plan a run to the store for the proper organization tools when your "cleaning" is complete.
5.   Have the kids pitch in. A one toy reward for every 10 they give away is an excellent way to clear out the clutter!
6.   Attach Windex Outdoor Cleaner to your hose, and go to town on those windows and lawn furniture. The amount of time (and back pain) saved not having to climb the ladder and spending an entire day cleaning is totally worth the $8 price tag for the Windex Outdoor Window Cleaner!
7.   Invest in file cabinets. They are invaluable for bills, tax paperwork, kids homework, art projects and so much more. You will be amazed at the state of your drawers after you actually take the time to file all of the extra papers floating around.
8.   Last but not least, do the floors last! Let us repeat – cleaning your floors BEFORE you clean your counters is a big mistake!
Happy spring cleaning, friends!