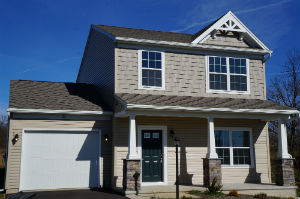 For anyone who works in the Frederick, MD or Hagerstown, MD area, the unfortunate reality is that home prices are not always proportionate to pay. It is virtually impossible to own a brand new single-family home without spilling over $300,000 and then add in commuting expenses on top of that, and living in this area can be very expensive.
For anyone else who has echoed these same thoughts, there's a new player in town. Well, just outside of town if you want to be really specific. Cedarbrook is located exactly one mile above the PA/MD state line just off of I-81 and offers home buyers an alternative to a normally expensive housing market.
The community offers a combination of ranch homes and two-story single-family homes starting in the $170,000s. Even though this price point is more equivalent to townhome communities in nearby Hagerstown, buyers need not fear that they are being shortchanged.
Every home in this community is built on a spacious home site ranging from a third to a half-acre and is an energy-efficient e-home. Each home features superior build quality such as 2×6 construction, OSB sheathing, upgraded insulation, low-e glass windows and much more to deliver thousands of dollars in energy savings when compared to the average code-built new home. In fact, each S&A Home is, on average, 37 percent more energy efficient than a code-built new home.
Add in the benefits of living in a PA school district on top of the fact that Cedarbrook is just minutes from Hagerstown's best shopping and dining, and it's obvious that this community has a lot to offer!  For more information, please visit S&A Homes on the web.