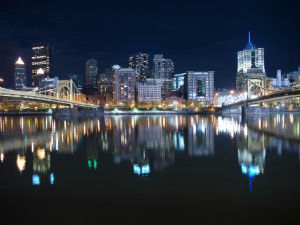 What goes into ranking a town or city as one of the best in America? According to the American Institute for Economic Research (AIER), there are 12 main factors that need to be taken into account to determine such a thing. For cities and large towns, everything from cultural opportunities to professional development to low unemployment rates play a role in the rankings. For college towns, degree attainment and even academic research and development are taken into account.
And for 2013/2014, we are excited to announce that two of our biggest markets are featured on this newest list. For Top College Towns, State College, PA landed an enviable third spot on the top five list, meaning it is ranked in the top three college towns nationwide! The town scored high in areas like low unemployment, a variety of cultural opportunities as well as entrepreneurial opportunities. 
We are also pretty psyched that the Pittsburgh Metro area was number three on best mid-sized metros nationwide. In fact the area scored high in just about all factors, beating out almost every other metro area for offering a dynamic combination of high earning potential and plentiful professional opportunities along with a low cost of living.
Between these two areas, S&A offers more than 36 different communities to choose from.  Whether you seek an urban townhome, a luxurious estate or modest home on your own piece of ground, we can ensure that your dream to live in one of the nation's most desirable areas comes true. For more information about our communities and floor plans, please visit us on the web here. For more information about the AIER's entire list, please click here.