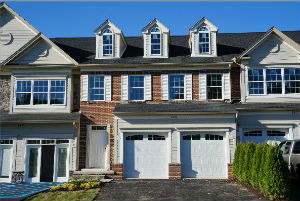 What are your plans this weekend? No matter what you have on tap, if you live in the State College, PA area, there is no doubt the upcoming Penn State vs. Michigan game may play a role in your weekend plans. But with a 5 p.m. kick off, there should be plenty of time to kill Saturday morning and all day Sunday. So, what better way to do it then joining us for the unveiling of our brand new Village at Canterbury model home, The Charlestowne?
This picture is a sneak peak, but the finishing touches are being placed as we speak. This weekend, we are offering an open house of our brand new model home to the public, complete with custom decorating courtesy of Patricia Gordon, owner of Riley on Main based in Boalsburg, PA. 
Whether you are looking for an amazing vacation home here in Central PA, a maintenance-free move-down property without sacrificing on luxurious amenities or simply a one-of-a-kind custom carriage home, chances are we have something for you at The Village at Canterbury.
The community is situated on the Centre Hills Golf Course and features amazing views of the golf course down below and Mt. Nittany in the background. With more than 28 ways to configure the floor plans available in this community, each carriage home will be one-of-a-kind, unique to its owner.
We will be holding our open house this Saturday and Sunday from 10 a.m. to 5 p.m. each day at 513 Brandywine Drive, State College, PA. Not only will you be treated to some great decorating, but we will have food, beverages and some of the most spectacular views to behold this weekend. For more information about The Village at Canterbury, please click here.