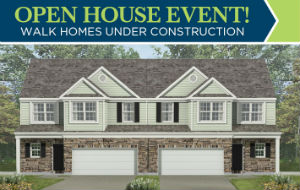 Few places emanate the perfect balance of convenience and luxurious living the way Charles Pointe does. Its great location just off of I-279 south of Morgantown, WV in Bridgeport, WV along with its many recreational amenities such as baseball fields, walking trails, parks and on-site shopping make it the end-all-be-all for those seeking a true master-planned community.
Although S&A Homes has been the exclusive builder of Charles Pointe for several years, it is only recently that we introduced our elegant Wakefield carriage home to the lineup at Parkview Village, which features ultra-convenient maintenance-free living at a great price point for both busy professionals as well as anyone who is less than enthused at the thought of yard work.
This Saturday, house hunters in the West Virginia area are in for a treat at the Parkview Village open house event we have planned. Join us from noon to 4 p.m. this Saturday, June 22, and treat yourself to grilled burgers and dogs, and tour one of our two Wakefield homes that will be open for tour this weekend.
For more information, please visit S&A Homes on the web, or contact Mike Mann at 304-808-5100.