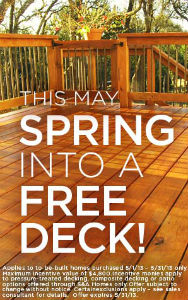 It's one thing to build a beautiful new home. Luxurious interiors, brand new kitchen appliances and a customized layout are just some of the reasons more and more home hunters choose new construction these days.  What about the exterior of your new home? Shouldn't it get the same amount of attention as the inside of a new home?
This month, at S&A Homes, we are giving home buyers no excuse not to have the perfect inside and outside! Anyone who purchases a to-be-built home during the month of May will automatically receive a free deck or patio with their brand new home. What exactly makes this promotion so special?
For starters, it can be combined with any other advertised community incentives, meaning home buyers will truly be able to maximize their savings this month. Secondly, S&A Homes offers a variety of options such as composite decking or patio designs to truly make your backyard an outdoor oasis.
For more information and details about this limited time opportunity, please visit us on the web.