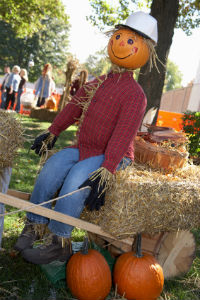 Time is definitely running out to capture the little ones on camera romping around the pumpkin patch, playing in the mums and helping bake those apple pies.  With the colder temps and rainy weather settling in, the fall foliage will last a couple more weeks at best before those picture opportunities slip away.  So, we've done the homework for you to highlight the biggest and best fall festivals near new homes in Pennsylvania. This way, you and your family can easily make those memories together!
Those of you seeking a more traditional venue in Pittsburgh, PA should consider heading out to the Fall Harvest Festival at Apple Castle.  It promises to offer traditional foods, crafts, music and more.
Looking for something a bit more adventurous?  We put our money on this weekend's Nemacolin Woodlands Resort Rocktoberfest.  Not only will you get to take in live bands and beer, but how about some zip lining, rock climbing and ropes courses to go along with that?  Take our advice; though, get the adventure out of your system before enjoying the local brews!
For those of you living in Central PA, we put our money on the Bellefonte Fall Foliage train rides.  Riding a 1940's era passenger train and taking in the fiery fall colors is a very classy way to celebrate autumn.  Of course, kiddos will also love the State College Fall Festival held on Allen St. this Saturday from 10 a.m. to 3 p.m. Nearby Harner Farm and Way Fruit Farm also offer wagon rides, haunted mazes, pumpkins and more.
Those living around our state's capital should consider ringing in the fall with a trip to Hershey Park in the Dark. Where else can you get spooked by goblins and roller coasters alike without standing in the traditionally long and hot lines that summer offers?  For a more refined experience, check out the Hershey-Harrisburg Wine Country Fall Festival, offering a taste of the area's best wines and fresh pressed juices on October 27 and 28.
This weekend, we have some fall fun planned ourselves in the State College area!  Join us for the Parade of Homes at our Foxpointe model home located at 1977Autumnwood Rd., State College, PA and get some great fall decorating ideas and a free pumpkin for your family to decorate and bring home.  For more information, please contact us at 814-231-8560 or visit S&A Homes on the web.