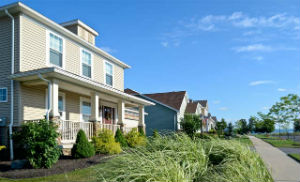 The news sure is confusing these days isn't it?  One day, we hear that we are in the worst recession since the Great Depression.  Next day, excellent job news!  Then we hear that there is still a glut of supply in the housing market, next day we hear we are out of the woods.  What's true and what's not?
Well, the real answer is that the truth is complicated and varies market to market.  While we can't claim to have expertise when it comes to making proclamations about the U.S. job market, we do have a clue about housing, especially in the Pennsylvania area.
Pittsburgh seems to be the golden child, but there is more good news coming out of the region.  Why, you may ask, is Pittsburgh so much healthier than many of the other U.S. metro housing markets?  There are a few key reasons:
1.    No Drop from the Top – the region never dropped from inflated prices in the first place.  Conservative job growth and lending standards means Pittsburgh grew at healthy, normal levels and hasn't suffered from over-supply or over-building.
2.    Consistency.  Pittsburgh jobs and population consistently grows at a steady rate, instead of the balloon effect of highs and lows that other major cities suffer from.  Year over year, Pittsburgh is up 11.2% in housing starts from the same time last year.
3.    Low supply – despite many new construction projects in the area, developers are managing to keep up with growing demand without over-building in the area.  The result?  Some great new home options for Pittsburgh residents without the added worry of investing money in an area that won't yield returns.
For more information on new homes in Pittsburgh, please visit S&A Homes on the web.