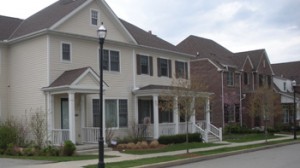 With all of the different marketing messages out there, we will put the big question out there – what do buyers of Pennsylvania new homes really want? There is no simple answer to this question, since every individual has their own set of circumstances. That being said, there are some distinct trends in the new home industry. Let's dissect some of the top trends.
Smaller Houses – That's right – it's not about how many square feet any more. It's about how that square footage is used. Gone are the days of the large formal areas and trudging up and down the basement steps to do a load of laundry. Today's new homes feature innovative touches like second-floor laundry rooms, technology drop zones and built-in media centers to reduce the need for space without sacrificing functionality.
Smaller Home sites – Although driven out of necessity in urban areas, this growing trend is a direct reflection of today's hectic lifestyles. Between 40+ hour workweeks, kid's sports activities, commuting and traveling, buyers want to spend less time maintaining their lawns and more time enjoying their life. Of course, the word 'smaller' is a relative term and driven by individual markets.
Mix of Commercial & Residential – Most home purchasers don't need to live above a shopping mall to experience convenience, but most will agree that their daily stops (think coffee…think daycare) often dictate where they will live. How nice to have these little luxuries located adjacent to or across from one's neighborhood.
Energy Efficiency – Let's face it: today's prices can't be blamed on inflation. $4/gallon for gas and $9 for frozen nuggets at the grocery store is forcing all of us to analyze every dollar we spend. So, it stands to reason that a homebuyer would prefer a more comfortable home that saves them thousands of dollars a year compared to a 10-year-old home. CFL lighting, Manabloc plumbing systems, and ultra low-e windows are just a few of the things new PA energy efficient homes can offer so that you can put that precious money back where it belongs.
Obviously, it's not enough for us to spout of these trends on a blog – we consider every one of these trends each time we build a new home or open a new community. For more information on our new homes in PA and WV, please visit our website.