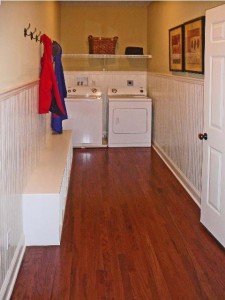 S &A Homes takes Operation Organize Simplify  into a room that may be small but can throw a big punch in the way of bringing order to your entire home. It's the mud room, and as the first place most family members enter the home and the last room they see before they exit, it presents many opportunities for organizing the stuff that makes its way in (and needs to be ushered out).
A previous post on drop zones offered ideas for organizing areas such as mudrooms, which are often the ultimate drop zone. Pegs and hooks make hanging up a jacket or backpack easy and fast. A bulletin board can help organize the paper clutter that enters your home as soon as it passes the threshold.
But when it comes to mudrooms, built-in cubbies are the ultimate in organizational tools. Many S&A Homes homeowners choose to incorporate this optional upgrade into their floorplans . Whether they're at ground level to capture muddy shoes or sports equipment or up higher to hold school books and binders, cubbies provide a place to stash things as they come in the door. Random jackets, shoes and backpacks are no longer strewn about the house, and every family member knows exactly where to look for items that often get misplaced because there's no convenient place to store them.
When each family member has his or her own cubby, everybody has a place to store items they need as they come and go – such as purses and book bags. Mom might put her purse there as she comes in, then place letters to be mailed in her cubby so she'll remember them as she heads out the door the next morning. Children's permission forms, cookies for the next day's bake sale, or even sack lunches can be placed in the appropriate cubbies to reduce the chance of being forgotten.
If you're interested in designing mudroom cubbies into your next home, you'll want to visit the S&A Homes Facebook fan page. You can download a coupon for $1,500 off the organizational items of your choice when you buy a new S&A home.
And everyone knows that some of the best home organization ideas come from Realtors, who visit hundreds of homes each year. So if you're a Realtor, let us hear from you. Post your ideas on our blog, and you could win a $150 Home Depot gift card and a bonus with your next S&A Homes sale.