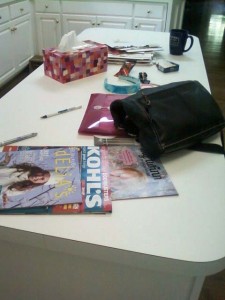 In the aviation world, the drop zone or DZ is the place where a parachutist expects to land after jumping from a plane. Imagine a large, open flat area – no trees, no obstructions – just waiting for someone to drop in.
Now imagine your kitchen island, the family room built-ins or any flat surface near the most-used door. Does it feel like your builder provided those open spaces so they would be waiting for any backpack, purse or stack of mail that happened to drop in?
As part of S&A Homes' Operation Organize Simplify, we are offering to be different from "that" builder. We want to give you options for decluttering the drop zones in your life before you ever move in. All you have to do is visit our Facebook fan page, like it and then click on the tab that says $1,500 off. Then you can print a coupon for $1,500 off the organizational items of your choice when you buy a new S&A Home.
In the mean time, what do you do about the drop zones in your current home? Here are a few ideas:
Invest in pegs and hooks, and assign a couple to each member of the family. They're the easiest way to get backpacks off the floor, and even the smallest child can hang a jacket from a hook. Hang them near the door you use most often if possible.
Bulletin boards are a great way to organize the paper clutter. Find a wall that guests don't usually see but that family members use often – perhaps in the laundry room, mud room or home office. Choose a large bulletin board, and use ribbon to divide it into sections for each family member. Decorative tacks will provide a fun way to hang permission forms or correspondence that requires a response. Let the kids decorate manila pocket folders to hold papers that will need to be filed in the future. Another pocket file folder might collect bills as they arrive. Be sure to put a shredder and recycling container nearby so you can properly discard all the junk mail and unnecessary papers that come into your home.
Many of S&A Homes' floorplans include designated drop zones with multiple electrical plugs, creating perfect areas for charging cell phones and iPads, as well as dropping keys, jackets, purses and more.
What ideas do you have for organizing the drop zones in your home? Share them with us here. If you're a Realtor, you could win a $150 Home Depot Gift Card just for offering your ideas, and you will receive a bonus on the next S&A Homes sale you make.