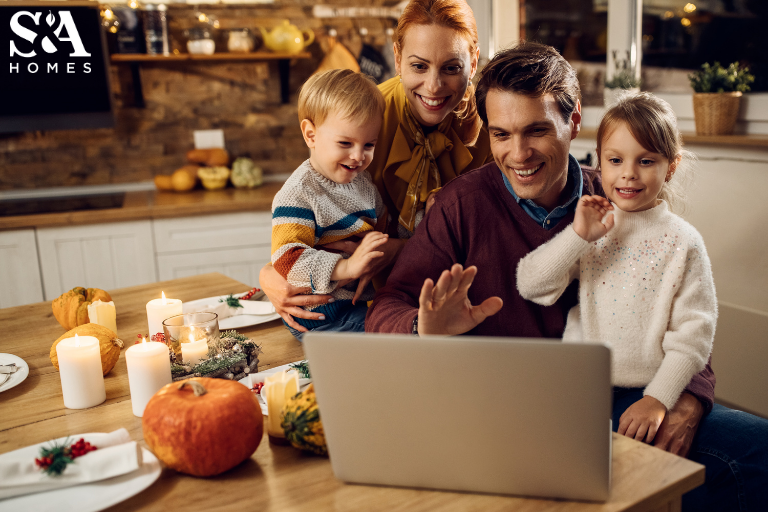 While the holidays may look a bit different this year, that doesn't mean we can't still celebrate the upcoming season with our loved ones. This year, countless families are choosing to host holiday gatherings via the same virtual environment as school and work on video chat platforms.
No matter the virtual platform used, these get-togethers are sure to be as fun and memorable as the in-person events with these virtual holiday hosting tips:
Come Together Around Food and Drink
Food and drink offer an opportunity for friends and family to come together whether it be in person or online. While running the video app through dinner as everyone eats is certainly an option, families can also keep virtual gatherings simple by sharing a certain aspect of the meal such as appetizers or desserts. This works great for holiday parties, as well as extended family gatherings where members may prefer to enjoy some separate dining time with their own household. Holidays hosts can even whip up some tasty treats ahead of time and deliver or send them to family members to enjoy together during their virtual gathering for that added feeling of connectedness.
Add Some Entertainment
Throughout this past year, virtual playing sites have emerged to make virtual gatherings more exciting and engaging for users. Using My Free Bingo Cards, families can play a traditional game of Bingo, as well as games that revolve around various movies or TV shows. If the Zoom celebration is adults-only, hop on PlayingCards.io for a game of Cards Against Humanity. Whether your family wants to play Pictionary, Scattergories or have a trivia match, there are numerous free game generators online available for use. Don't forget to add in a few prizes to enhance the friendly competition. Outside of online gaming, you can also provide entertainment by hosting a kitchen/cooking challenge, caroling some songs or completing a holiday craft together online. Be creative and find unique ways to make your virtual celebration festive and fun!
Make Time for Conversation
As much as you might want to plan an itinerary for your virtual holiday gathering, be sure to make time for conversation. One of the best parts of holiday celebrations is the ability to mix, mingle and catch up with those you have not seen in a while. Outside of the holiday meal and entertainment, make sure to allow time for guests to talk amongst themselves how they like. Even after the online celebration ends, leave the call running so attendees can continue to chat amongst themselves. Communication is important in today's environment and the opportunity to connect virtually with loved ones provides just that.
Are you celebrating the season with a virtual holiday celebration? Explore new home opportunities from S&A Homes throughout Central and South-Central Pennsylvania by calling 1-855-SAHOMES1 or visiting www.SAHomeBuilder.com.