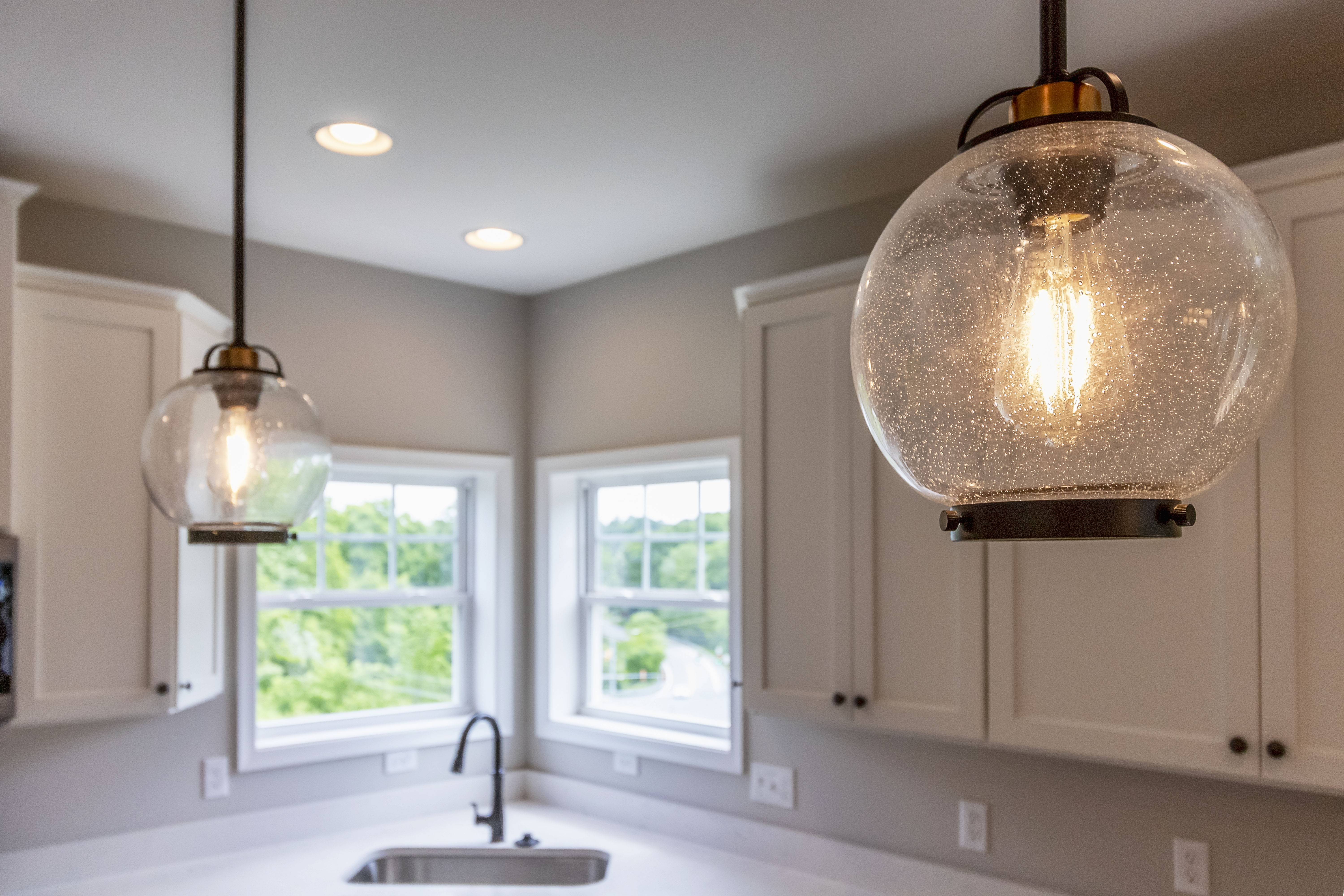 Light up your new S&A home! Lighting is an important feature in any home; not only does it offer a necessary function, but it also poses an interior design component. The lighting size, finish, style and placement have a significant impact on the mood of a room. Depending on the look you are trying to achieve, it is important to be aware of the variety of lighting options available.
Known for excellent service and innovative lighting solutions, S&A Homes uses Maxim Lighting to illuminate its homes' interior spaces. Through Maxim, S&A Homes is able to provide its homebuyers a variety of on-trend, designer packages to choose from.
For a bit more insight, here are a few of the most popular lighting trends S&A has seen among recent homebuyers:
Soft Gold Finishes
Today's homeowners have fallen in love with soft light fixture colors for its neutral elegance. This popular soft gold shade falls right in the middle between brushed silver and brushed gold, allowing it to bring out the warmer and cooler tones of both. As a result of its versatility, this finish is easily adaptable and blends in well with a variety of décor preferences ranging from industrial to farmhouse.
Matte Black
While matte finishes have been on the rise over the past few years, so have matte black finishes. Black is a timeless color and matte finishes offer a beautiful felt-like texture. The combination of the two work together to create a sleek, modern look. This high-contrast fixture finish does a great job of instantly updating a space while easily matching with any design style. This style is especially popular in kitchen and bathroom designs.
Industrial Styles
The industrial style has made a comeback but in a new and refined way. This more modern approach has the same rustic finishes, neutral colors and metal emphasis as traditional industrial styles, but with less of a rustic touch. Instead, these new updated industrial lighting fixtures feature sleeker metals, varied tones and unique designs that make the fixture appear more like a piece of art than an essential home feature.
Bigger is Better
When it comes to this lighting trend, bigger is always better. In today's homes, light fixtures serve as a statement piece for the home just as much as it does a lighting source. Large fixtures create a 'wow' factor that draw immediate attention to a room or space. Hang a large pendant light fixture over the kitchen island or add an intricate chandelier to the foyer or above the dining room table.
Geometric Shapes
Trying to decide on a lighting centerpiece style? Geometric shapes having taken over the lighting market and have proven to be a trend that is here to stay. Triangle, hexagon, diamond and round-shaped light fixtures add an abstract, architectural feel to the space that is sure to initiate some conversations among guests.
To learn more about home lighting solutions from Maxim Lighting, as well as new home opportunities throughout Central and South-Central Pennsylvania from S&A Homes, call 1-855-SAHOMES1 or visit www.SAHomeBuilder.com.