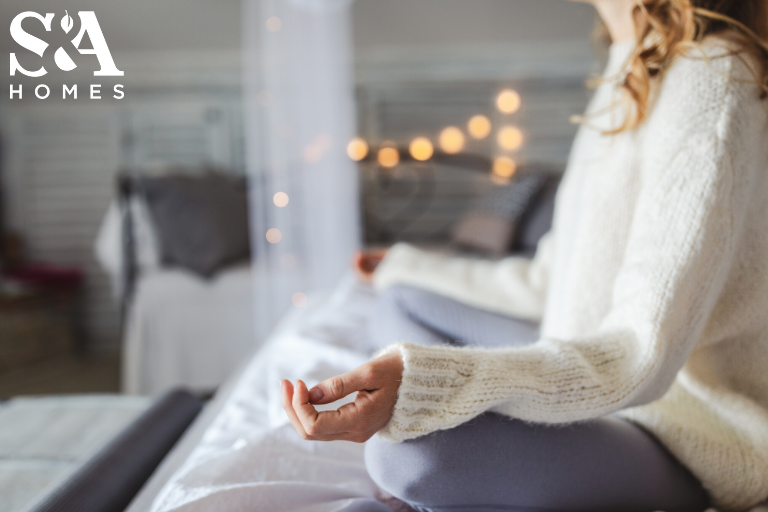 With most people still spending so much time at home and the added stress of being around each other more than usual, cabin fever is sure to be setting in by now. Unless previously intended, dining areas are now being used for makeshift home offices, bedrooms are classrooms and living areas are home gyms.
That being said, it is also important to have a space meant as a stress-free zone to help unwind from the new normal. Everyone needs their own space sometimes, especially if living with other people.
Here are some ideas for creating a stress-free zone in your S&A home:
The Set-Up
A stress-free zone can be set up in a variety of places throughout the home whether it be in a bedroom, living room, spare room or office. A stress-free zone does not have to be a massive space to be functional and serve its purpose.
The Color Scheme
Science has proven that looking at specific colors can help you relax on a psychological, emotional and even physical level. For example, blue is a soothing color that helps calm the mind and has been shown to lower blood pressure, slow heart rate and reduce anxiety. Implement blue through wall colors or accent décor pieces, and when choosing the right shade of blue to use in a stress-free zone, go for a soft, more neutral tone to really add an overall calming effect.
Green is also a restful and peaceful color as it symbolizes nature. An easy way to implement green shades throughout your home and in your stress-free zone is by adding houseplants. Indoor plants can provide impressive benefits to residents, making them more of a necessity than a luxury, including:
Increased oxygen levels.
Help deter illness.
Clean the air.
Boost healing.
Help you work better.
See the full list of relaxing colors and how they affect your mood here.
The Equipment
Selecting equipment for a stress-free zone is the most essential part of creating such a space. Choose items that evoke calm feelings such as:
Massage chair.
Meditation/yoga station.
Tabletop indoor water fountain.
Handwoven rug.
Himalayan salt lamp.
Essential oil diffuser.
Wall art.
S&A Homes offers a variety of floor plans that offer flex spaces, basements and bonus rooms, perfect for a stress-free zone. To learn more about home designs and new home opportunities throughout Central and South-Central Pennsylvania from S&A Homes, call 1-855-SAHOMES1 or visit www.SAHomeBuilder.com.