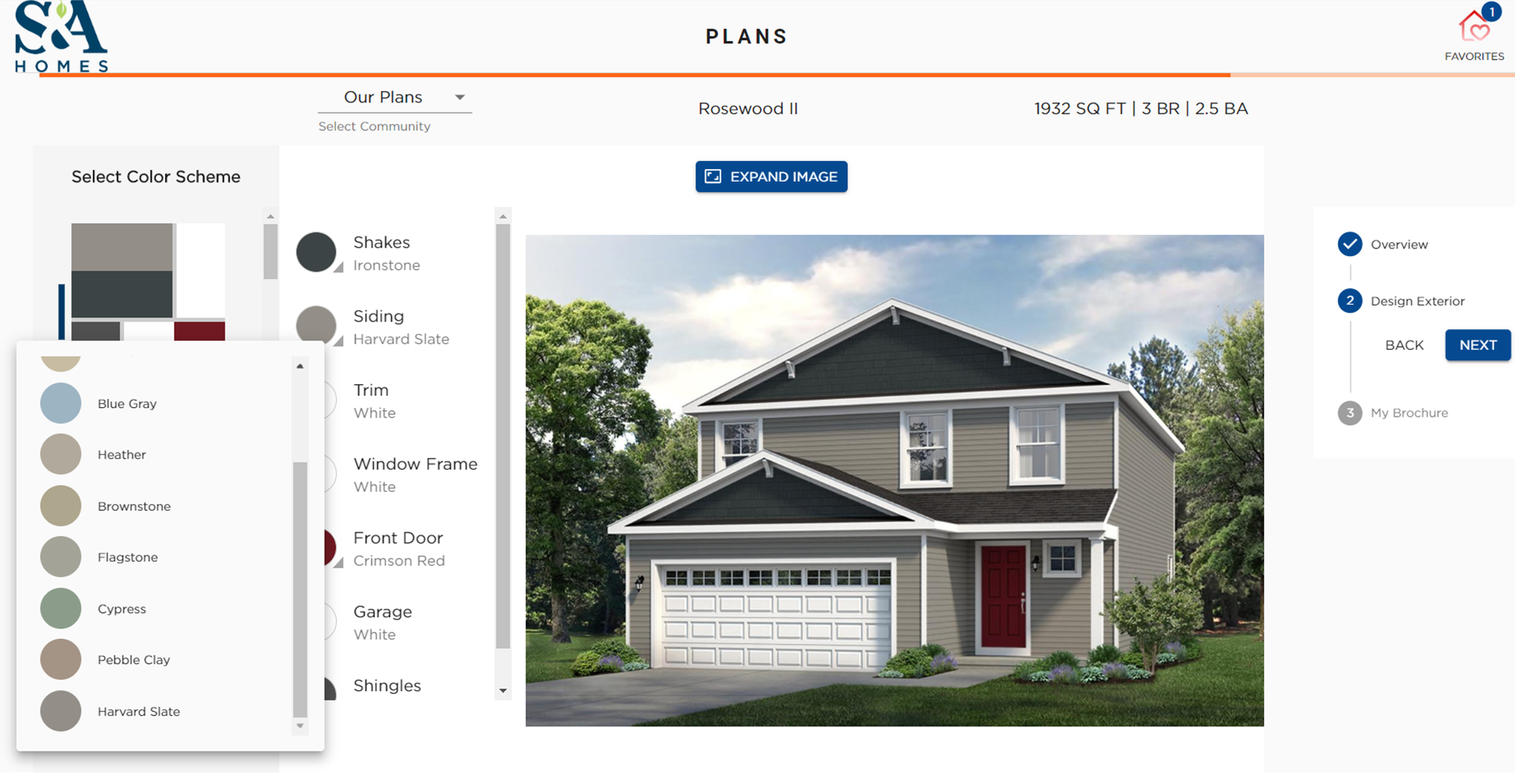 A home's exterior is one of the biggest drivers of value and curb appeal. Your home's exterior is one of the most important color choices you can make. Coordinating siding, trim and other exterior features not only brings the home together, but it is also a personal reflection of the people that live in it.
In the past few years, exterior vinyl siding has consisted of more subtle pallets with whites and grays reigning supreme. While those neutral colors aren't going anywhere, new colors and color combinations are making their way onto the siding scene to create a fresh and modern look.
If selecting exterior colors seems a bit daunting, here are a few color trends we are currently seeing. Plus, with our new S&A Interactive Exterior Color Tool, customizing your home exterior has never been easier!
Exterior Color Trends
Dark and Saturated
Dark accents and trim have long been popular, but now, fully dark exteriors are becoming a new favorite among homeowners. When it comes to vinyl siding colors, opt for saturated shades like dark charcoal, forest green, deep burgundy or chocolate brown. These shades are neutral enough to not be too over the top, but enough to a more dramatic feel.
Tone-on-Tone
For a modern and cohesive look, try tone-on-tone siding. Rather than using the same shade of siding from the foundation to the roofline, choose varying gradients of the same color to freshen up the exterior. This color combination is a great way to create an updated aesthetic and bring life to neutral shades or tone down brighter colors.
Color Pops
Nothing draws attention to a home more than a bold pop of color. The easiest way to add a fun pop to a home is with the front door. A bright red or teal door on an otherwise neutral home adds a great contrast that livens up the exterior. If red is a bit too much, try more of a neutral color like a soft blue, moss green or deep plum. You can also contrast neutral and colored siding to create an even bolder, dynamic look.
S&A Homes Exterior Color Tool
Need some help choosing the exterior color for your new S&A home? We have you covered! Our new color tool allows homeowners to preview color options on all of our Streamline Series floor plans, and a few of our Heritage floor plans. An overview of each plan, photos, and links to virtual tours are also provided. Keep checking the tool – we will continue to add new floor plans!
Heritage
For Heritage plans such as the Avalon, homebuyers have open color customization and full creative control. A classic color scheme series is provided for those seeking a more neutral exterior, as well as a designer color scheme with more rich and bold shades. Once a color scheme is selected, homebuyers can play around with color options for several home features including siding, roof, trim, front door, garage, shutters, shingles and even stonework.
Streamline Series
For Streamline Series plans such as the Ashwood, color selection is set up slightly differently. While more suggested color schemes are provided, fewer changes are available in order to make the selection process easier. On Streamline Series homes, homebuyers can change the colors of the board and batten, siding and front door. Other accents such as the trim, garage, and shingles are predetermined.
Once the color selection has been made, homebuyers can create a brochure that includes information about the plan, an image of the customized rendering and a palette of the selected colors with the color names.
To explore the new color tool, click here: S&A Homes Interactive Exterior Color Tool
To learn more about new home opportunities throughout Central and South-Central Pennsylvania from S&A Homes, call 1-855-SAHOMES1 or visit www.SAHomeBuilder.com.