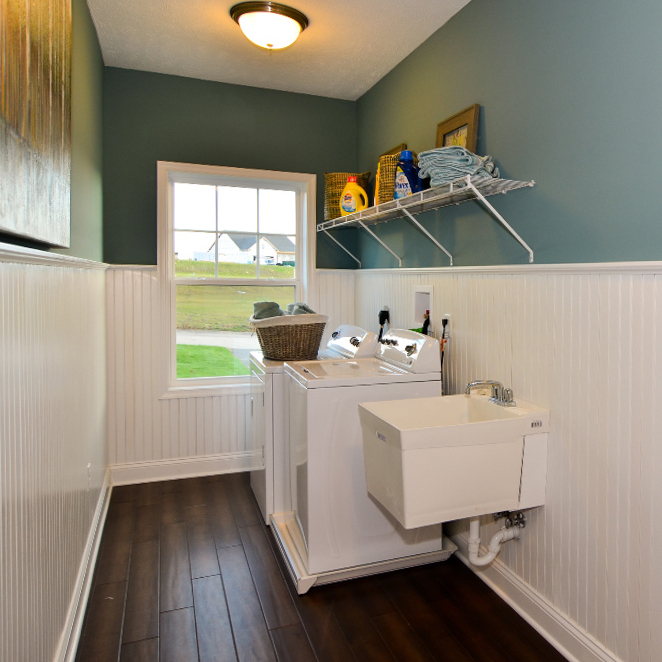 Laundry rooms come in all shapes, sizes and most importantly, locations. The location of your home's laundry room varies depending on your household's lifestyle and preferences. When deciding where to place the laundry space in your new home, consider who does the laundry, how often and how much space is needed.
Main Level
One of the most popular laundry room locations is on the main level, typically located off the kitchen or main hallway. The main level of the home is where families spend most of their time, so having the laundry room located where life is happening makes perfect sense.
Pros: Whether you're cooking in the kitchen or spending family time in the living room, you will be able to hear the dryer buzzer and stay on top of your laundry loads with a main level laundry room. A separate room also allows homeowners to customize it to fit their needs and designate a particular space for their home's laundry and extra space to store their next load and cleaning products.
Cons: Depending on the layout of the home, a laundry room on the main level may not be the most convenient option. While the location is certainly within easy reach of main level living areas, those with homes that have two or more stories may find hauling heavy laundry hampers up and down flights of stairs an inconvenience.
Upper Level
A traditional location, the upper-level laundry room makes it easy to contain the mess while maintaining convenience to the private living area.
Pros: For homes with upper-level bedrooms, having a laundry room upstairs makes it easy to keep up with dirty laundry. It also offers additional convenience when it comes to laundering bed linens and used bath towels.
Cons: On days spent more in the common living areas that are typically downstairs, some homeowners prefer to not hit the stairs to keep daily laundry going. Of course, this can be considered a perk if you are trying to get those steps in for the day, but that is not always the case.
Mudroom or Entryway
For busy families with kids, a laundry room located in the mudroom or next to the family entrance is an obvious and practical choice. Mudrooms allow family members to toss their dirty clothes into the laundry as soon as they enter the home, which means less dirty clothes lying around elsewhere.
Pros: Most mudrooms are located on the main level, which means easy access to and from main living areas, but far enough away that the noise isn't a nuisance to daily life. These mudroom spaces typically include built-in storage for housing laundry products, as well as benches and countertops that can be used to place hampers and even serve as make-shift folding stations.
Cons: Mudroom laundry rooms are really best suited for homes whose mudrooms are located off the garage rather than the home's main entrance as most homeowners don't want guests to be greeted by dirty clothes. Additionally, the idea of mixing dirty shoes and clothes with clean laundry can be unappealing. Homeowners may need to add extra effort to keep the two separate.
Hallway Closet
Hallway laundry closets are a common laundry room location for homeowners who don't want them to take up a lot of space. Hallway laundry closets are centrally located in the home to provide convenient access between bedrooms and other living areas.
Pros: For homeowners that don't want to take up space with a laundry room or those that have a smaller, less active household, a laundry closet is an excellent option. Their central location in the home makes for shorter trips back and forth while their closeted design keeps laundry units concealed behind closed doors.
Cons: The biggest con for hallway closets is space and mobility. Laundry is a physical chore that requires bending down, sorting clothes from a hamper and opening and closing washer and dryer doors. Hallways are generally high-traffic zones of the home. These narrow spaces may not be the most compatible option for those who prefer more space to move.
To learn more about new home opportunities throughout Central and South-Central Pennsylvania from S&A Homes, call 1-855-SAHOMES1 or visit www.SAHomeBuilder.com.