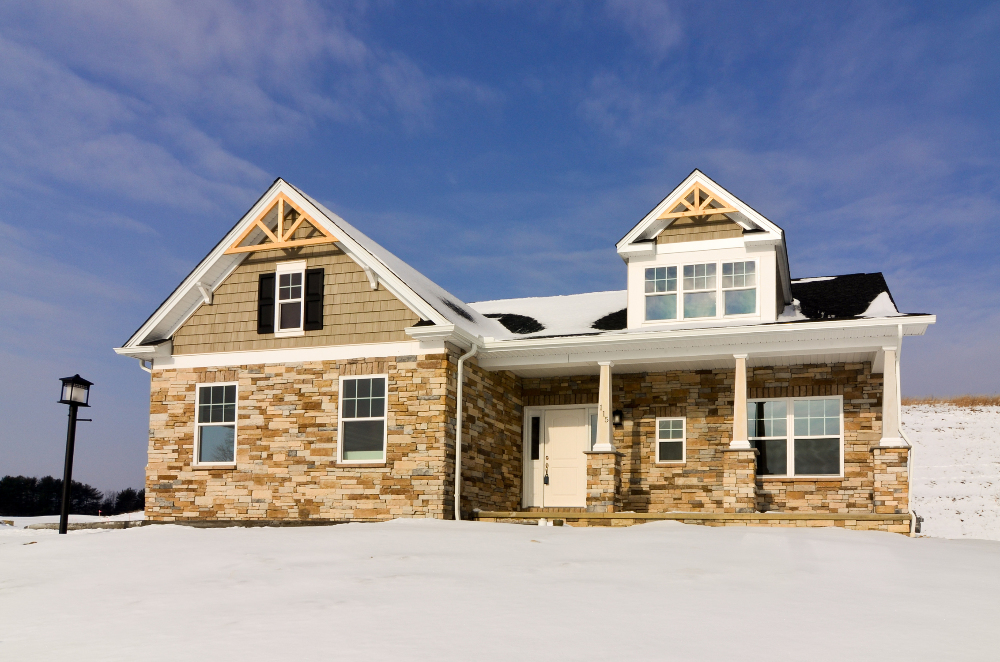 Winter weather is upon us here in Central Pennsylvania and things are getting cold. While blankets of snow and glistening icicles may be a pretty sight, they can also pose potential dangers for homeowners and their homes.
Before the season furthers, follow these winter safety tips to protect your home and family from the cold, unpredictable winter weather ahead.
Test Smoke and Carbon Monoxide Detectors – Smoke and carbon monoxide detectors should be tested at least once a year and batteries replaced one to two times a year. Considering the winter season is the time most people turn on the heat, light up the fireplace and plug in the space heaters, it's a good idea to make a habit of checking the smoke and carbon monoxide detectors to prevent fire hazards. In the event that a fire does start, make sure you have a working fire extinguisher ready to go.
Prevent Water Pipes from Freezing – Do not forget about your home's plumbing in the winter season. When the weather gets especially cold, let the water continuously drip from indoor faucets to encourage water flow and prevent pipes from freezing or bursting. Be sure to also pay attention to pipes on exterior walls or in unheated spaces such as basements, garages and basements. These pipes are the most susceptible to freezing but can be prevented with proper pipe insulation and/or turning off the bibb valves that supply water to those areas.
Inspect Heating Systems – Before heating up your home, make sure your heating systems are in proper shape. Get your furnace cleaned and inspected to ensure it is functioning properly and efficiently. Also, remember to replace furnace filters more regularly during the winter to improve air quality and save much-needed energy.
Clean Fireplaces and Ovens – Nothing beats lighting a fire in the fireplace or cooking a warm, comforting meal on a chilly winter night. However, before you light the fire or turn on the stove, make sure a proper inspection and cleaning are performed for both. For fireplaces, call a professional chimney sweep to clean out soot and debris that could catch on fire. Since more comfort foods are cooked in the colder months, it's important to clean the inside and outside of your stove and oven of grease or fat that could easily ignite.
Warm Your Car Outside – While it may seem more convenient to warm the car up in the garage, doing so could result in damaging effects. Letting a car warm up in a confined area like a garage, even if the garage door is open, can expose you and your home to harmful carbon monoxide gas. Carbon monoxide is colorless, odorless and its symptoms are not easily recognizable. As a rule of thumb, back your car out of the garage before turning on the heat. This will provide proper ventilation and prevent potential carbon monoxide poisoning.
Prepare for Power Outages – During the winter months, it's important to be ready for anything, including power outages as a result of heavy snow and ice. To prevent you and your family from being stranded cold in the dark, keep a stash of flashlights and batteries on hand, as well as plenty of blankets, jackets, hats and scarves to keep warm and, of course, make sure your household is stocked full of non-perishable items that don't have to be cooked or heated.
Check Your Roof and Gutters – Snow and ice can wreak havoc on roofs in the winter season. Check roofs for shingles that are damaged, loose-fitting or missing, and make sure seals around vent stacks and chimneys are properly sealed. Hire a roofing professional to remove debris off the roof and from the inside of the gutters. This debris could potentially retain moisture and cause further damage to your roof and home.
Shovel and Salt Your Walkways – The short walk from the driveway to the front door can become a danger zone when snow and ice accumulate. After it snows, take a snow shovel or snow blower to clear out high traffic areas. Follow up with some rock salt to prevent messy slips and falls from ice buildup.
Follow Space Heater and Heated Blanket Safety – If you plan on using a space heater or electric blanket this winter, remember the safety rules. Place space heaters on a flat surface and keep them 3 feet away from flammable objects such as curtains, furniture, clothing or rugs. For both space heaters and heated blankets, never leave them on unattended. Turn them off when you leave the room or go to sleep. When buying a space heater or heated blanket, never purchase secondhand and make sure the product has been tested by a certified testing company.
Stay safe and warm this winter in the comfort of an S&A home. S&A homes include the industry's latest and most effective technology revolutions, approaching energy-efficiency from a whole-house performance perspective. Click here to learn more about life in a S&A home.