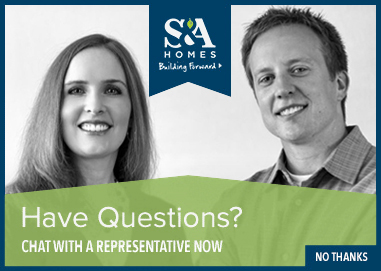 Want to learn more about S&A Homes and our new home communities? Connect with us! S&A Homes offers a variety of ways for homebuyers to connect, interact, stay updated and learn more about life in an S&A home.
Social Media
Get social with S&A Homes by following us on Facebook, Twitter, LinkedIn, Instagram and YouTube. Our social media followers receive the latest updates when new blogs are posted, when exciting events are happening, when new move-in ready homes are available and more. All social media platforms offer photos of our homes and communities, as well as several video walkthrough tours. Our social media sites allow homebuyers to get a glimpse of life in an S&A home and provide even more ways for them to connect through interactive app features.
Receive Updates
Stay up-to-date with S&A Homes by signing up for email updates. Click the green sign up icon on the right-hand side of the website and enter your information to be among the first to know when we add new Quick Delivery Homes, release new property lots, open a new model home or offer a limited-time opportunity. To better serve our customers, S&A Homes also offers a Full Interest List that contacts homeowners with information that may be of specific interest to them in their homebuying process.
Online Chat
Have a question and need answers fast? Chat with us online in real-time seven days a week! S&A Homes offers an online chat feature that allows homebuyers to talk with a live sales representative that knows the company inside and out and is able to provide homebuyers with the most up-to-date, accurate information before they even step foot in an S&A Homes community. Click the arrow that says "Start Chatting Now" on the Contact Us page, or the blue chat icon on the right-hand side of the website, to begin a conversation.
Call or Email Us
For good, old-fashioned one-on-one communication, feel free to call or text our online team at 814-247-0065, or send an email to [email protected]. Our sales representatives are happy to assist with any questions potential homebuyers may have and help them to begin their homebuying journey with SR Homes.
For more information about how to connect with S&A Homes and to access our contact features, click here. To learn more about new home opportunities from S&A Homes throughout Central and South-Central Pennsylvania, call 1-855-SAHOMES1 or visit www.SAHomeBuilder.com.