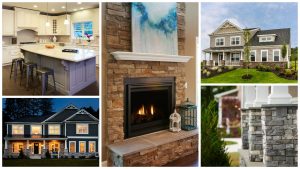 Do you dream of buying a new home in 2018? Buying a home is a marathon so the more you're able to prepare ahead of time, the better shape you'll be in when you're ready to start the journey to your new home. Here are some new home resolutions that will help you prepare to make the move in 2018:
Start saving for your down payment
A 20% down payment is common, but depending on the lender, you may be able to put less money down (just be aware that down payments of less than 20% usually mean you'll have to pay for private mortgage insurance). Coming up with a down payment is often the biggest roadblock for most homebuyers, so start saving now. Use a down payment calculator to help estimate a goal amount and develop a savings plan.
Check your credit
Before you start browsing home listings or going to open houses, do a credit check. Your credit score is important: it's the number lenders use to judge your credit-worthiness and determines the interest rate you'll get. Keep in mind that the higher your credit score, the lower your interest rate will be. This is also the time to review your credit report to address any errors and look for opportunities to improve your score if needed.
Figure out your affordability level
Next on your list is to determine how much home you can afford. Asking yourself this pragmatic question to reduce the chances of your dream home turning into a financial nightmare. You can use a home affordability calculator to determine how much home you can afford or find a mortgage lender to perform the deep dive for you. When calculating your affordability, don't just look at your salary; you'll want to include your current debts and obligations (car payments, student or personal loans, and credit card debts for instance) for a complete financial picture.
Get a preapproval letter
Prequalifying and preapproval often get confused but they're two different ideas. Getting prequalified for a mortgage means you get an estimate of how much a lender may be willing to lend you. However, a preapproval is a more formal process that ends with a specified amount a lender is willing to lend. Preapprovals make you a more serious buyer so when you're ready to begin looking at homes, make sure to get preapproved.
And remember, you don't have to borrow the full amount you're approved for!
You're well on the road towards homeownership in 2018! While you're preparing to secure a mortgage, be sure to not make any major life changes or take out new debts (or miss any debt payments). Buying a home takes a lot of time and work but getting started early will make the entire process smoother.
S&A Homes offers a variety of new home communities and floorplans in the most sought after locations in Pennsylvania. We can also build your dream home on your own land! For more details, visit www.sahomebuilder.com