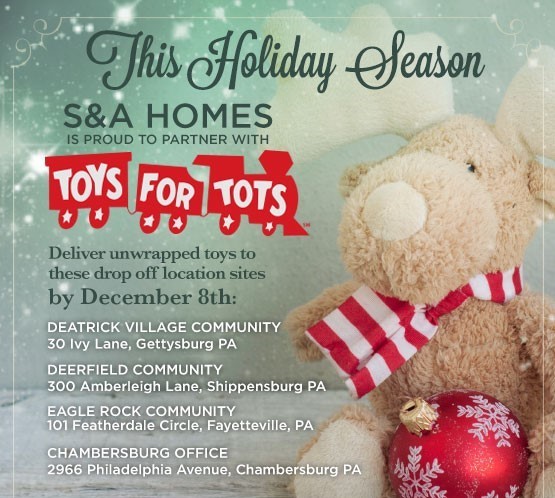 The holiday season is officially here, and stores are already decked out in their Christmas best. While many children are already working on their wishlists for this year, there are some children who might not have a magical Christmas.
That is why S&A Homes is proud to partner with Toys for Tots to bring the magic of the holidays to children throughout Central Pennsylvania.
Last year, the Toys for Tots Program collected and handed out 18 million toys and 1.5 million books to 7 million less fortunate children in all 50 states, the District of Columbia, Puerto Rico, and the Virgin Islands through the donations of regular citizens along with help from major sponsors.
We invite you to join us in supporting the Marine Corp Reserve with their Toys for Toys porgram. You can help make this a special year for a needy child in the community by donating a toy. They'll see that your toy fulfills the dream of a child who might be forgotten. Bring new, unwrapped toys for kids aged 0 to 13 years old to one of our drop-off location sites by December 8th:
Deatrick Village Community: 30 Ivy Lane, Gettysburg PA
Deerfield Communty: 300 Amberleigh Lane, Shippensburg PA
Eagle Rock Community: 101 Featherdale Circle, Fayetteville PA
Chambersburg Office: 2966 Philadelphia Avenue, Chambersburg PA
We are also collecting unwrapped toys and non-persihable foods at our Corporate headquarters in State College from November 20th through December 15th. Here's a list of the current needs at the State College Area Food Bank.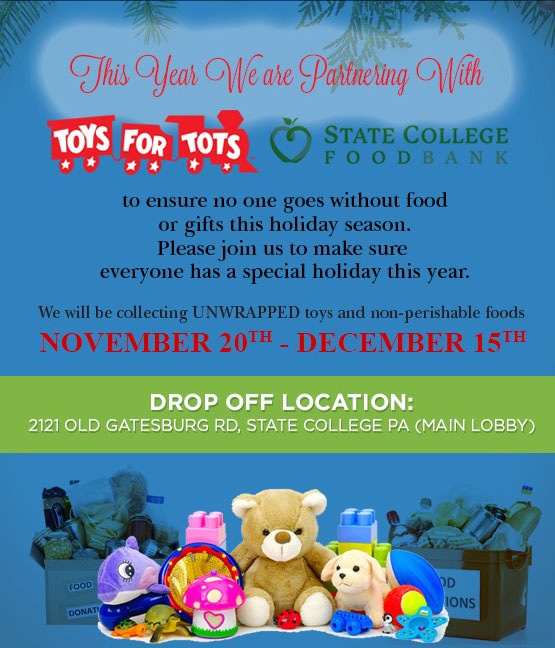 Corporate Headquarters Main Lobby: 2121 Old Gatesburg Road, State College, PA
Thanks to the kind efforts and warm hearts of those in the community, we'll be able to help Central Pennsylvania families give presents to their children and help these families have the holiday celebration they deserve.
To learn about our Central Pennsylvania new homes, visit SAHomebuilder.com.