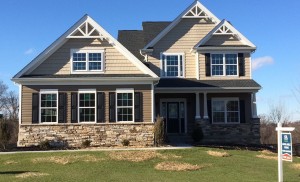 What happens if you fall in love with a floor plan or home but you aren't so interested in a specific community? Or maybe you don't want to live in a neighborhood at all – maybe lots of acreage down a winding dirt road paints a better picture of your ideal home. For those seeking something a bit more outside the box, a solution is not far from reach.
S&A Homes' Build on Your Lot program puts all of our available floor plans at your fingertips to build on your piece of land. While many builders may claim they do the same, no program is as streamlined or as customer-friendly as ours. The secret is that we don't ask our customers to manage the home building project the way most new construction providers will. Instead, you will have a project manager working for you, negotiating costs and choosing the most reputable vendors to complete the work in a timely and high-quality fashion.
The process is simple and starts with an on-site visit to your piece of land. Often, our customers will meet with a project manager before they purchase the ground in order to gather an estimate of costs that is customized to that specific land parcel. The estimate of site costs will show everything from tree removal to excavation to grading, plumbing and electrical hookups and more. Since every piece of land is unique, the estimate is unique as well – there are so many factors that can impact lot costs, from how far it is from electrical and water tie-ins to its elevation, even the direction it faces.
From there, the fun begins. By marrying your estimate with an available floor plan with the customizations you choose, an overall price comes into focus. Once the plan and selections are finalized, you, the customer, will have the chance to sit back and relax while we complete and manage all of the work, from beginning to end. We will never ask you to procure a permit, work directly with electrical contractors or pay vendors directly the way that many builders will. That means you get the same streamlined process that all of our home owners do regardless of whether or not you choose to build in one of our communities.
For more information regarding the Build on Your Lot process and for a list of counties we build in, please visit us on the web.