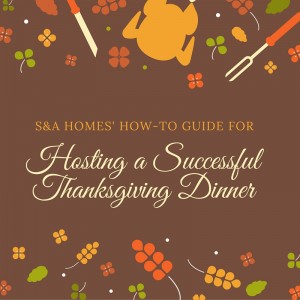 T-minus two days until Thanksgiving! If you're planning the big meal and are feeling stressed, just read on. We have a few how-tos on hosting a successful event for your friends and family.
Our number one tip is to not do it all alone. From decorating the house to prepping dinner to cleaning up, allot certain tasks to family members. That way, you don't have to worry about making the beds or tidying up the kids' rooms when you're about to cook one of the best meals of the year.
Our second tip to you is to ask your guests to bring the sides. Does your grandma make the best sweet potato casserole? Maybe your brother has a knack for baking pies. Ask guests to bring a favorite dish. Turkey and stuffing is plenty to have cooking in your oven.
Having a big group? Assign seats. That way, your talkative cousins aren't stuck at one end of the table while the other end is sitting in awkward silence. Think of who will engage everyone in conversations and place them near more quiet family members. Old childhood memories and funny family stories are sure to be shared!
After the kids eat, be sure to have an activity to keep them occupied. Instead of them being bored listening to the adults talk, they'll have a ball doing crafts or playing board games. Bring everyone back together again for dessert.
At the end of the night, be sure to get rid of those leftovers (but save just enough for lunch tomorrow). You don't want to be eating green bean casserole into next week, and eating turkey for each meal will get old too. To make giving out the extras, tell your guests to bring their own plastic containers. You'll have more fridge space too!
If you need even more tips for hosting a successful Thanksgiving dinner, click here.  For more information about our new homes, visit www.sahomebuilder.com.