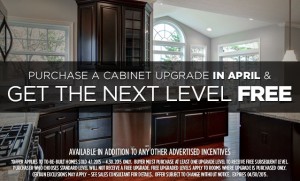 Those seeking a luxurious kitchen or bathroom already have a leg up on the competition when they choose to purchase a new home from S&A Homes.  Thanks to our partnership with one of the most respected cabinetry companies in the nation, Century Kitchens, our standard cabinets far exceed industry norms. In fact, every cabinet produced by Century Kitchens is designed and manufactured in one of their local Pennsylvania facilities, and Century Cabinetry has also been certified by the Kitchen Cabinet Manufacturers Association (KCMA) as meeting the standards for their Environmental Stewardship Program, meaning each cabinet meets the strictest standards to be considered "green". 
But what if you could upgrade those cabinets for additional features and colors without having to pay for it?  For those purchasing a to-be-built home from S&A Homes during the month of April, that is exactly the opportunity they will have.
For a limited time, anyone who purchases a cabinet upgrade will automatically receive the next level for FREE.  For those looking at larger homes and higher level upgrades to receive unique cabinetry with features like antique glazing and exotic woods, the savings can equal thousands of dollars.  As an added bonus, this incentive can be combined with any other advertised promotions so buyers can save big during the month of April!
Here are a few rules to keep in mind:
Savings only apply to to-be-built homes, not quick delivery homes.
Purchaser must purchase at least one level upgrade to receive the next level free.
The upgrade is applicable in the same room where the upgrade was purchased.  For example, if a buyer purchased Cabinets Upgrade number one in the kitchen only, they will receive Cabinet Upgrade number two in the kitchen only.
Offer applies to sales dated April 1, 2015 to April 30, 2015 only!
For more information, please call us at 1-855-SAHome1 or email us at newhomesales@sahomebuilder.com.