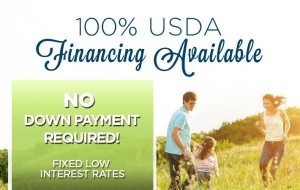 You are probably sick of hearing it, but record low interest rates continue to abound. According to many sources, they may not last a whole lot longer. For those who are just entering the home market or starting to think about their first purchase, this can be a serious dilemma.  Save up 20 percent for the down payment and risk that interest rates rise dramatically or take a lesser home in order to take advantage of the most affordable financing rates in years?
What if you didn't have to take either risk?  Wouldn't you prefer to live in the house you really want, but without having to wait to save up your 20 percent down payment? 
Thanks to 100 percent USDA Financing, you can do just that!  Now offered in many of our communities located in or near Martinsburg, West Virginia and Chambersburg, Pennsylvania, this unique financing program offers unrivaled benefits for first time buyers or those coming up short on down payment monies.
Here are a few snapshots of the program:
No Down Payment!  Borrowers get to choose how much they want to put down on a home, if anything at all.  For those who do want to chunk away at their mortgage, 100 percent of the funds can be gifted.
30-Year and 15-Year Fixed Interest Rates that are competitive with conforming loan rates.
More flexibility with credit scores. While borrowers still need to provide a credit report, those with a few blemishes can still easily qualify for USDA financing.
No purchase price limitations although a specific lender may a maximum amount the loan qualifies for.
Want more information? Call us today at 1-855-SAHome1 or email us at newhomesales@sahomebuilder.com.