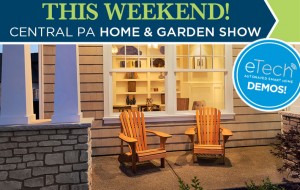 This one home show you don't want to miss! Beginning today and running through Sunday, we invite you to join us at booth C11 at the Bryce Jordan Center so that you can experience firsthand the brand new eTech™ smart home automation platform that we are now including in each and every home we sell.**
The brand new technology system allows homeowners to control several of their home's systems right out of the box, such as the home's lighting, HVAC and front door lock. Even better, homeowners will be able to add many z-wave enabled products to their home after move-in  and integrate them with the eTech™ app that can be installed on any smart phone or tablet. 
If technology isn't your thing, you will still appreciate the interactive floor plans that will be available to browse through and that includes the signature series collection that we rolled out in 2014.
Don't miss this incredible weekend event being held at Booth C11 of the Central PA Home and Garden Show at the Bryce Jordan Center this Friday, March 13 at noon to 8 p.m., Saturday, March 14 at 10 a.m. to 8 p.m. and Sunday, March 15 at 10 a.m. to 4p.m.  Hope to see you there!
**Effective 1/1/16 eTech is now available as an optional add-on feature in select regions – prices and availability vary by community and are subject to change without notice. eTech to be paid for by customer unless otherwise stated. See sales consultant for details.