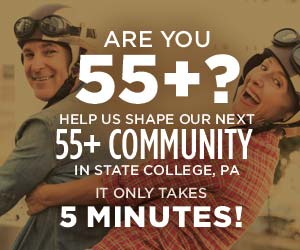 How often have you toured a new home community just to find yourself wishing for a different floor plan, community layout or amenities? For those seeking a 55+ living community in State College, PA that rare opportunity is here for the next two weeks while we conduct a survey to get your opinion about 55+ living in the area.
If you have ever considered moving to an age-restricted community in the State College area, then this is definitely a chance to express your opinions and wishes as they related to building a new home in a 55+ community.  Everything is on the table, from floor plan designs, community amenities and to location. Your feedback will be used to gauge the interest and desires in 55+ living in State College, PA and as an added bonus, when you take just five minutes to fill out the survey, you will automatically be entered to win a $150 gift card to Home Goods or Home Depot, your choice!
Don't miss out on this fun opportunity to make sure your voice is heard!  Click here to take the survey now.