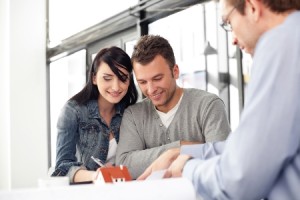 Great news for first time buyers!  Anyone thinking about their first home purchase has surely come across information for FHA home loans.  FHA financing provides a gateway for purchasers to secure a home with a loan amount up to $271,050 (in most PA and WV counties for a single family home) without having to save up 20 percent for a down payment.  For just 3.5 percent down, purchasers can enjoy home ownership in competitive loan programs that include 30-year fixed rates starting as low as 3.25 percent!
The MIP (Mortgage Insurance Premium) might be the only catch, if you could even call it that.  The premium is designed to protect the lender should the homeowner stop making payments.  The good news is this: The MIP rate was cut nearly in half earlier this week to make home ownership more attainable for those who could clearly afford the monthly payments but who have not yet had enough time to save up a large down payment.  The average annual savings from the MIP rate cut will yield $900 in additional funds for new homeowners.
That, coupled with rock bottom interest rates means buyers have an incredible opportunity to own a home for a lot less money than rent in most places.  Our dedicated sales team here at S&A Homes is experienced and understands how to work with FHA lenders, so reach out to us so we can help you purchase the home of your dreams!  For more information, contact us at 1-888-SAHome1 or email us at newhomesales@sahomebuilder.com.