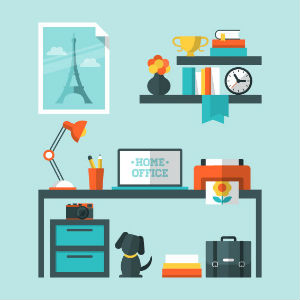 It's hard to believe that in just a couple weeks another school year begins, and the lazy days of summer are gone. For some of you, school may have already started, so there's no time like the present to get started on a home organization project.
Anyone with school-age children can relate to the mountains of paperwork that comes home on a daily basis. Without a system to manage homework, activities and clutter, your home can quickly get out of control. Here are some tips to keep the clutter from taking over.
1.    Create a landing zone for your children.  It could be as simple as hooks for their backpacks and as elaborate as an organization armoire to hold sports equipment, shoes and coats. Depending on how much space there is in your home, your sanity will depend on keeping these items off of the floor.
2.    Create an organizational hub. It could be in your kitchen, a wall of your pantry or even in a hallway, but consider this the dumping grounds for all things unsightly. It should contain the following items, all of which can be found for a great price at Ikea or Target.
a.    If you own an S&A home, there is a good chance you already have a built-in drop zone in your home. If not, get a charger box which contains plugs and space to charge phones and tablets with a pretty little top to hide all those cords.
b.    Use wall-mounted magazine racks and label each bin with one child's name and another with your own. These can be the In & Out boxes. Drop off all items that need tended to that evening in the bins, and send them back out in the morning.
c.    Use plastic storage organizers to sort all of those loose pens, pencils, change, keys and items that are rolling around right now.
d.    A wall calendar should be prominently displayed in your organizational hub. Use a different color pen for each child's activities. Even though the activities may be in your "phone", having a monthly view at your disposal each morning and evening is incredibly helpful for managing your family's schedule.
3.    Find collage frames for your children's artwork.  While not everything can be displayed, using a collage frame to showcase snippets of your child's artwork can allow you to showcase up to 16 pieces of art without overtaking the walls. The rest? Invest in portfolio boxes or decorative boxes so that you don't ruin those precious memories.
4.    Last but not least, invest in a hanging organizer.  It will be the best investment of any you make. Label your file folders with a space for everything from report cards to homework projects, and keep it in a handy spot like a kitchen cabinet or the bottom of your pantry or in your mud room. Having a central place to "catch" all of those remaining items and keep them off of your counters will be key to a clean looking home.
For more information about the organization solutions we offer at S&A Homes, please visit us here. In the meantime, happy organizing!