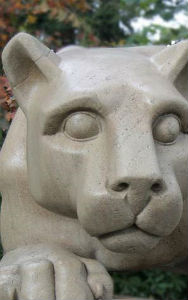 Everyone from Happy Valley is well aware of the Blue-White Game tradition that serves as the University's unofficial spring reunion. This year's game is especially important since it is James Franklin's debut as the new head coach for the Nittany Lions. Plus, since attendance and parking is completely free AND the forecast for Saturday is 68 degrees and sunny, we wouldn't be surprised if attendance this year breaks the 70,000 number, making this one of the most attended spring football games in the nation.
Here's a breakdown of some of the weekend's biggest events:
Saturday, April 12
9:00 a.m.: Blue-White FanFest kicks off on Curtain Road and features vendors, games, snacks and fun activities for the entire family.
10:45 a.m. to 11:30 a.m.:  Autograph Session with the Penn State players. Bring your jersey, football or t-shirt and have it signed by your favorite players at this popular event!
1:30 p.m.: Official Blue-White Kick Off at Beaver Stadium
Sunday, April 13
11:00 a.m.: Official start time for the 5th Annual Paterno Three Mile Run or One Mile Family Fun Walk starts at the Bryce Jordan Center and all proceeds benefit The Special Olympics.
11:00 a.m. to 3:00 p.m.: Blue-White Post Game Tailgate Party hosted by S&A Homes is being held at The Village at Canterbury. Food, refreshments and tours of the golf course community will be open to the general public. Click here for directions.