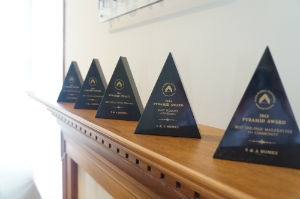 Last week, our team at S&A Homes was proud to walk away with five Pyramid Awards from the Harrisburg Home Builders Association (HBA).  The annual event is actually part of a nationally recognized program that is administered through local HBA chapters to honor the best of the best when it comes to home builders, remodelers and industry leaders in marketing and advertising.
Our Harrisburg region submitted photographs and examples of work for each category in addition to a written narrative outlining the goals for each program and submitted their work earlier in the month to the Harrisburg Home Builders Association.  Afterwards, a third-party panel of judges combed through the submissions to make a determination of who won best of the best for work done in 2013.
The event was held on Friday, April 25 and S&A Homes was recognized as the winner in the following categories:
•    Best On-Line Advertising
•    Best Company Signage
•    Best Mailer 55+ Community
•    Best Website
•    Best Social Media
Our team at S&A Homes is committed to being the best of the best for our homeowners throughout Pennsylvania and West Virginia as well as best of the best in our marketing and advertising. We are grateful to the Harrisburg Home Builder's Association for the recognition and are looking forward to many more years working with the chapter to introduce "best of the best" practices at the local level.