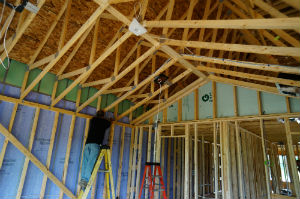 What is pre-construction pricing? Those looking for a new home have heard the term, but not everyone is aware of what it means.  The truth is that it can mean different things depending on the circumstances surrounding it.
A builder that touts pre-construction pricing in a slow selling community may simply be using the terminology as a sales gimmick. A builder that legitimately offers buyers a discounted chance to get into a community before many of the "perks" are in such as landscaping, a finished streetscape or a model home may offer new construction purchasers a chance to save big up front.
So, how can you tell if you are getting a true bargain or not? Two words: sales volume. Communities selling quickly will also tend to be the ones that offer big returns for early investors. Of course, if you are striving to be the FIRST buyer in a community, that type of information certainly won't be available to you. Relying on market comps in the surrounding area will be your best bet to determining if a community is a true bargain or not.
For those living in the Carlisle or Chambersburg area, our brand new Deerfield community is truly a pre-construction opportunity that won't last long. Since opening the community just a few months ago, nearly half of the home sites in the first phase have sold, and construction is starting at a rapid pace.  Once grass and landscaping go in and our brand new model home opens next month, the starting price of $160,000 for this community won't last long.
Part of Deerfield's appeal is the fact that it is the only new construction actually offered in this charming town that gives residents a historic feel, a world-class university and some of the area's best restaurants and recreation opportunities. Even those new construction communities that are offered in nearby towns like Carlisle tend to start in the mid $200,000s and don't offer the same quality of workmanship, materials and energy efficiency that an S&A Home does.
In fact, the only problem with Deerfield is that it's selling so quickly that those sitting on the fence may miss out on this rare opportunity to own a brand new home in a perfect location. For more information about Deerfield, please contact Sherry at 717-300-4058 or visit S&A Homes on the web.