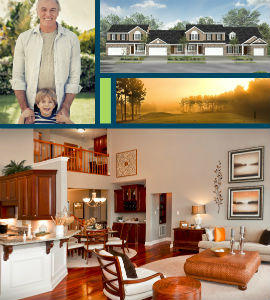 When we all picture retirement, we may envision ourselves in a sunny place like Arizona or Florida, soaking in the rays, hanging out with our ultra-friendly neighbors in a monstrous clubhouse and swimming ever day in an Olympic sized pool. The reality is, however, that more and more retiring baby boomers are choosing to live in locations close to their kids (and more importantly, grandkids) and are choosing an active, hands-on family lifestyle that often has very little to do with the mega resort community we usually envision for baby boomers.
That doesn't mean 55 and uppers don't seek many of the luxuries that those resort-style communities offer, though. They just want to be close to their family, and, frankly, most don't want to spend nearly $1,000 a month on HOA fees to maintain those types of amenities. So, what does today's retiring baby boomer seek? According to studies conducted by AARP, John Burns Real Estate Consulting, National Association of Realtors and the NAHB there are many items Baby Boomers have on their wish list. These few stood out:
•    Maintenance-free lifestyle
•    On-site storage area in home or community
•    Desire to live near loved ones
•    Lower living costs
•    Close to local amenities and recreation
•    Custom cabinetry
•    Luxurious amenities
•    Grandchildren friendly
•    Single level and/or ranch plans
•    Lever handle faucets
•    Higher cabinets and comfort-level toilets
•    Owner's suite and at least one other bedroom on the first floor
Luckily, those living in the Harrisburg and/or Gettysburg area have options that fit every mark in our Amesbury and Deatrick Village communities. While the Amesbury community is technically our only 55+ designated community, both offer luxurious floor plans with first floor owner's suites, custom cabinetry, oversized bedroom and kitchen areas, substantial storage and garage areas and a wallet-friendly price point starting in the upper $100,000s and lower $200,000s.  Best of all, both communities are completely maintenance-free. This means residents don't have to lift a finger to help out with lawn mowing, snow removal or exterior maintenance and can instead enjoy the numerous local amenities right outside their doors. Sound pretty nice?  Don't miss out. Check out these award-winning communities today!