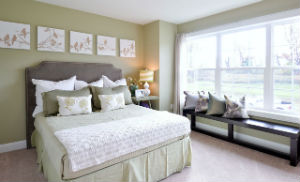 It's hard to believe that the temps will ever warm up in our region, but spring is around the corner. With it, home sales will heat up too.  If you are considering listing your home, there are some easy steps you can take to increase your resale value quickly and easily.
1.    Purchase Smart Technology Solutions for Your Home
From remote control lighting to security cameras to in-wall docking stations for your phone, there are several options to choose from nowadays and the marketplace is changing rapidly. Imagine programming everything from your coffee pot to your HVAC to do everything you want at the press of a button. Home technology solutions start as low as $100 and average around $300 to $1,000 which is a small investment for a lot of wow factor.
2.    Invest in a Storage Unit
That's right – a little bit of pain moving out the clutter can mean some serious gain in resale value.  Pictures, souvenirs, extra clothing, housewares and all of the random boxes that tend to collect in the corners should be removed from your home before you ever list it. In lieu of parting from the items, move them to a temporary storage unit and deal with the sorting later.
3.     Spruce Up Your Landscaping
A fresh coat of mulch, trimmed plants and a few drought tolerant bushes can do wonders for your exterior and create an inviting atmosphere when pictures of your home hit the market. A beautiful exterior can make up for a lot of deficiencies on the inside of an older resale home.
4.    Go Neutral
Perhaps the easiest and best way to create a beautiful interior is to replace your once-favorite bold colors with neutrals like gray, taupe and pale blue to create a more spacious interior and show-worthy home.
5.    Upgrade Your Kitchen
There is no other area of your home that can deliver a return like the kitchen.  Whether you choose to simply update your dated lighting fixtures or perhaps consider a larger investment into appliances and countertops, the monies you put into this area of your home almost always pay off.
S&A Homes offers new home communities in Pennsylvania and West Virginia and more than 60 plans to choose from.  Click here to learn more.