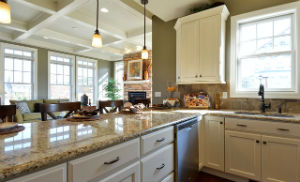 Well, for once they aren't calling for a blizzard in Pittsburgh this weekend. So, if you are like us, you want to take advantage and get outside and move around a bit! What better place to do that than at our Newbury Model Home Grand Opening event this Saturday and Sunday from noon to 5 p.m.?
This weekend, immerse yourself in a completely different living experience, and find out what all the fuss is about at this unique, award-winning community. Newbury, while being located in South Hills, one of Pittsburgh's more traditional favorite spots to live in, is anything but traditional. This distinctive community offers innovative Cottage-style floor plans that place emphasis on function and energy-efficiency, yet it offers all of the luxuries that homes twice their price do.
Now, you have the chance to walk through a brand new model home that redefines luxury.  Warning – touring this new home may mean long term consequences for your family such as pining away for a new home, re-doing your existing home or most likely, buying a new home at Newbury!
Newbury also offers the amenities that today's buyers want such as sidewalks, walking trails, ponds, parks and large backyards. The cherry on top is the fact that this community is located next to Newbury Marketplace, an innovative town center that offers boutiques, restaurants and recreation the whole family can enjoy without even getting into the car!
So, what are you waiting for? Join us at 1096 Gromwell Road, Bridgeville, PA to find out more about our available home sites!