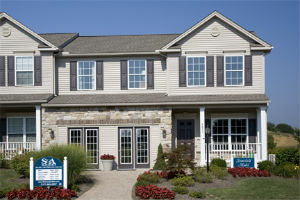 As the baby boomer population continues to "mature," more and more individuals who are 55 and older are seeking out innovative, yet affordable, age qualified communities. The 55 and up market is not small by any means. According to the NAHB, 45 percent of home purchasers will be over 55. With so many age qualified buyers in the market, we were curious – what exactly is this segment looking for?
According to an NAHB study released in 2011, most 55+ homeowners were generally satisfied with their homes. While only three percent of the study group lived in an age-qualified community, that same three percent reported the greatest satisfaction with their home, reporting an average score of nine out of 10 with 10 being the most satisfied. Why is that?
Once upon a time, 55+ communities were thought of as retirement havens. A neighborhood full of ranch homes with a bingo hall is far from the truth of what most 55+ communities are these days. Today, buyers in this segment report that the following attributes are most important to them when purchasing in an age-qualified community.
•    Affordability – many baby boomers are still active with their careers and aren't planning to slow down any time soon. With recent economic pressures, having an affordable home tops the list in importance.
•    Convenient Location – 55 and uppers aren't looking for a self-contained village. This group is active and wants a location close to area businesses, shopping and dining for their social life.
•    Less Maintenance – This crew isn't interested in planting trees and shoveling snow in the winter. Hand over the hard work to the HOA, and enjoy life!
•    Lower HOA fees – Although those living in an age qualified community are looking for activities, most are not interested in inheriting a $500 monthly HOA fee to get it.
For those living in the Harrisburg area, we are happy to report that we can meet all of the above criteria at Harrisburg's most popular 55+ community, Amesbury. Located in Lower Paxton Township, the community boasts the area's best location close to Harrisburg's best dining and shopping. Affordability is king at this community. With first-floor owner's suite plans starting from the $190,000s, you will be hard pressed to find anything that even touches these homes in terms of quality and value. Of course, lawn care and snow removal is included but not at the hefty premiums that most 55+ communities charge. Throw in the lovely bonus of the Lower Paxton Friendship Center and its recreational opportunities right next door, and you will be hard pressed to find a better 55+ community anywhere!
For more information about Amesbury, please click here.