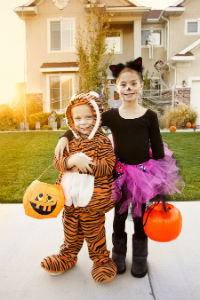 Halloween is just 16 days away! If you have little ones, that fun day comes with a lot of responsibility. Here are a few tips from S&A Homes to help make your Halloween fun and safe!
•    Take pictures on a different day (i.e. the week before). Many local photographers offer mini sessions for kiddos in their Halloween costumes. With portrait sessions starting as low as $15, we say that is a great investment! Let the photographer worry about capturing those cute little smiles, so you can enjoy the evening without the stress of capturing that perfect picture!
•    Write your child's name, address and phone number on the inside of their costume if they are young. Figuring out how to find your child AFTER you get separated is not the time to think about taking precautions.
•    Put reflective material on your child's costume, especially if it's made of darker material to ensure cars can see your little trick-or-treater!
•    Talk to your children about not eating their candy until they bring it home. Parents, you need to be part of the sorting process to check for any candy that shows signs of tampering or open packaging (and of course allergens). These should immediately be discarded. Of course, asking your children not to eat candy definitely means filling up those tummies before heading out to trick-or-treat. So, plan on making it a pizza delivery night!
•    Are you still using real candles in your pumpkins? Why? Not only are they dangerous for the trick-or-treaters, an accidental brush with fire could become a huge liability for you.  Electronic votive candles come in 3-packs and will last all night long, giving your front porch a spooky glow without the safety hazard of candles!
•    Don't forget about Fido! Make sure any treats are off the floor at all times. An ill pet would certainly put a damper on the festivities. And, if you choose to bring your dog trick-or-treating, make sure his ID tags are up-to-date in case he gets "spooked" and bolts!
Halloween is supposed to be a fun night, and hopefully following these pretty simple tips will help alleviate stress and make the holiday one to remember forever!