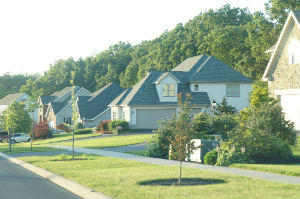 Did you know that this Saturday, September 28 is Good Neighbor Day? That's right! Okay, it may be a bit obscure and there probably aren't many of us that have even heard of Good Neighbor Day, but you are now in the know. Just like Grandparents' Day, this is one holiday that is quickly gaining in popularity.
A small gesture this Saturday could go a long way in the friend department and will certainly come in handy next time your run out of eggs.
Here are few wallet-friendly ideas to get you started:
1.    Cut apart your last remaining summer flowers from the garden and create homemade bouquets for your neighbors. After all, those flowers have one to three more weeks of life until that first freeze sets in.
2.    Same goes for any veggies you have. Use the last of your zucchini and create mini loafs for the neighbors. Or, transform all those tomatoes or apples and create homemade pasta sauce or applesauce and drop it off to the houses nearby.
3.    Have an elderly neighbor? Why not take an hour or two out of your weekend and see if they need help around the house? Moving around furniture, hanging pictures or helping to clear out the garage are just some of the items your neighbor may be putting off until their children come home to visit.
These are just a few of S&A Homes' ideas. What do you have in mind for this upcoming Good Neighbor Day?