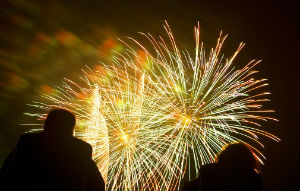 Normally we break out the area's best holiday events by region to ensure anyone living in our communities can easily have a fun day without worrying about a long drive. But, today, we are departing from our normal mojo and blatantly broadcasting our bias in favor of the Central Pennsylvania 4th Fest. Maybe it's because we are headquartered in State College, PA, but, fact is, an experience at the Central PA 4th Fest is unlike any other fireworks display and is hands down the best way to celebrate the 4th of July.
First off, there's a lot more than fireworks going on at this all day party. Start the day off right with a walk or run at the annual Firecracker 4k and tour Penn State's beautiful campus.  Perhaps a leisurely lunch in Downtown State College followed by the America's Got Heroes Parade is a better way to kick it off for you.
Starting at 2 p.m. the action really comes to life up near Beaver Stadium, where there will be everything from a carnival, craft booths, a dance party and three separate entertainment venues set up with more than 20 different live bands to spice things up. More interested in the technical side? You can even get a behind-the-scenes tour of the pyrotechnics, and find out more about how the show goes off with a bang.
The grand finale, pardon the pun, is obviously the fireworks display. In fact, this all-volunteer run show frequently places in the top ten displays in the United States and draws visitors from all over.
For more information about the Central PA 4th Fest, please click here. S&A Homes builds more than 20 communities throughout the Centre Region. For more information on S&A Homes, please visit us on the web.