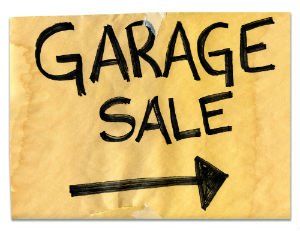 As the official start to summer approaches and schools let out, garage sale season is in full swing. Those disciplined enough to purge the old can be rewarded with a cleaner house and fatter pocket book simply by following these simple garage sale tips.
•    Start Early – Depending on when your last sale was, it may take several seeks to properly sort through the keepers, losers and sellers.
•    Check to See if Your Community Hosts a Garage Sale – Many of S&A Homes' communities throughout PA & WV host a community garage sale. Choosing to sell when your neighbors do takes the pressure off of having to advertise and place signs to draw people to your home.
•    Advertise! – If you aren't fortunate enough to live in a neighborhood sponsoring a community yard sale, utilize free listing services like Craigslist, Instagram, Facebook and signage to promote your sale ahead of time.
•    Keep Prices Realistic – Trying to sell old furniture for hundreds of dollars is not appealing to bargain hunters. Utilize Craigslist and eBay for larger items, and reserve your garage sale for $.50, $1 and $5 items.
•    Put Your Best Sellers at the Curb – Kid toys, low-cost furniture and organizers tend to be a draw – place these items strategically to ensure buyers don't miss your sale.
•    Make Sure Each Item is Marked – If your sale is as busy as you hope, you won't want to spend your time negotiating each piece. Mark accordingly. Items not selling? Mark everything 50 percent off for the last two hours of your garage sale.
•    Have Plenty of Change on Hand – Buyers will always come equipped with $20 bills.  Those precious $1's and $5's may be a bit rarer, so stock up before the sale to ensure you can give change without the stress of running to the bank for more.
•    Be Prepared to Sell Early – Many of the best buyers will be ready for you. Dubbed "early birds", these customers may be willing to pay top dollar, so be prepared to sell even before your posted hours.
Whether you are selling your home, organizing it or simply need to make a few extra dollars, we hope these extra tips will help make your yard sale a success. For more information about S&A Homes' communities, please visit us at www.sahomebuilder.com.