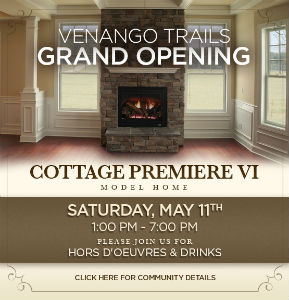 Anyone looking for a reason to kick off their weekend properly cannot afford to overlook the fact that we have a pretty special model home grand opening planned for this Saturday, May 11 at Venango Trails.  From 1 to 7 p.m., those in the Pittsburgh area shouldn't miss this incredible opportunity to get a first glance at the brand new Cottage Premiere VI model home opening up in this unique community. Not only can you take advantage of the warmer weather to peruse the community and our model homes, but we will be serving hors d'oeuvres and beverages to anyone that visits us during our grand opening event.
For those who may be in the dark about what makes Venango Trails so popular, let us enlighten you. First, its perfect location close to Wexford and Cranberry Township is ultra-convenient for those looking to have the best in shopping, dining and accessibility to nearby Route 19 and PA turnpike.
The neighborhood itself offers tree-lined streets, ponds, lakes and even acres of quiet wooded area that contain historic Native American trails. It is fair to say that few communities offer the perfect balance of beauty and convenience as well as Venango Trails does.
S&A Homes is proud to be a featured builder in the community and offers 12 luxurious floor plans that were specifically designed to fit in with the unique aesthetics and architecture contained within this community. For more information, or to view the floorplan of our brand new model, The Cottage Premiere VI, click here.