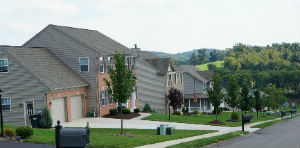 As the warm weather hits and spring wraps itself around Happy Valley, there is no doubt that the housing market is heating up. That means that the area's hottest community will soon be sold out, and those choosing to remain on the sidelines will miss out on their very last chance to purchase new construction homes in Foxpointe, located in State College PA.
This Sunday, from 1 to 3 p.m. the community will be open to tour the brand new homesites that back to open space as well as the model home that is currently for sale. What's the catch?  Well, the new homesites also just happen to be the last five available before the community is officially 100 percent sold out. So while Foxpointe will likely continue to be one of the area's most coveted neighborhoods, those wanting to take advantage of building a new home will no longer be able to do so once the lots sell.
What exactly makes Foxpointe so popular? Its incredibly close location to the Penn State campus means residents can literally use the bike trails to be at work in a matter of minutes. Its acres of open space, parks, picnic areas and playgrounds are appealing to others. Plus, its beautiful homes, curb appeal and friendly residents are an added bonus.
For more information about Foxpointe, click here or call us at 814-231-8560.